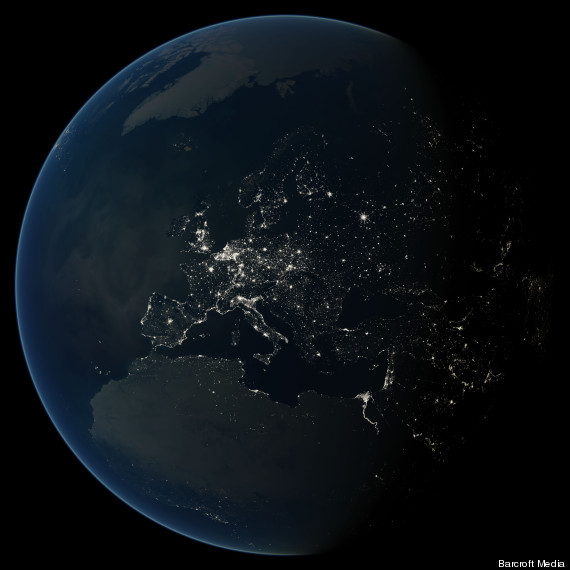 Felix Pharand-Deschênes' shots are created using data gathered by satellites
Taken from space, these images show the staggering extent of the world's light pollution.
Created by scientist Felix Pharand-Deschênes, the shots highlight mankind's sheer waste of energy with London, Paris, Berlin and Madrid burning bright, while Africa, South America and large swathes of Asia remain in darkness.
Pharand-Deschênes said: "These patches and dots of light tell an important story about modern times.
"We are causing a lot of detrimental effects on the world through unnecessary lighting."
The maps - created using data gathered by satellites showing light pollution - also highlight the contrast between first and third world.
Scroll down for more light pollution images
SEE ALSO: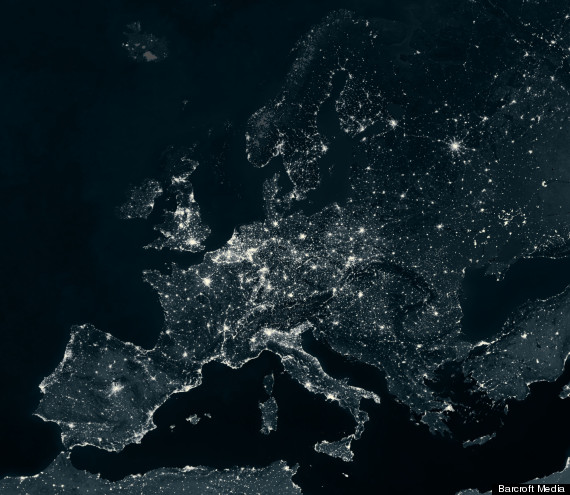 The images reveal the extent of light pollution across the world
Egypt's densely populated River Nile scorches a path through the darkness of Northern Africa.
And Japan is wall-to-wall light - in direct contrast to the lightless central Asia and India.
Pharand-Deschênes added: "Dark areas on the maps are either places where human population density is low or places where energy infrastructures are damaged, inexistent or crucially too expensive.
"Light - especially from classic lightbulbs - is using enormous quantities of energy.
"Incandescent lightbulbs are wasting much of it through heat making it one of the main drivers of global warming.
"Our global thirst for energy is worrying. We live on a limited planet which has what we call 'planetary boundaries'.
"We need, as a global community, to stay within these if we are to avoid enormous costs to our quality of life.
"But at the minute lights are used for everything from lighting streets to building offices and even highlighting monuments, cathedrals and casinos.
"These all contribute to the detrimental effects."