It was 1967 when Bob Dylan appeared in his video for Subterranean Homesick Blues, using cards to illustrate a series of sardonic refrains about modern life.
Fast-forward to 2012 and married artists Anna Gray and Ryan Wilson Paulsen are channeling the singer's spirit in their 100 Posterworks photography projects.
A series of wry messages are held up as they deadpan into the camera, creating black and white images that are at first deceptively simple but often bear deeper scrutiny.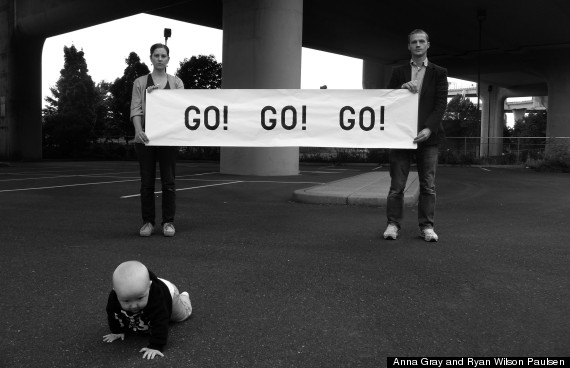 Go! Go! Go! by Anna Gray and Ryan Wilson Paulsen
Take for example the baby crawling away from a pair we assume to be its parents holding a sign saying 'GO! GO! GO!'.
Your first reaction may be to smile, then wonder if the image is saying something about the burdens of expectation children can be born with, whether from overbearing parents or a fast-paced capitalist society that urges them to grow up quickly.
For their part the couple say they are aiming to create a "playful, inquisitive, critique" of society and personal attitudes, and say reaction to the photos have been "mostly pretty warm".
"It started as a mail project; we were sending out the posters to a long list of curators, friends, writers, editors, artists, and institutions and the posters worked in that format," explains Ryan.
"What was really interesting was the suggestions we would get from others about what type of signs we should hold. Once it got picked up by blogs there was a mixed reception of course - some fair critiques and some amazingly antagonistic dribble."
What do you think of 100 Posterworks?
'100 Posterworks' Photography Project