World leaders will today discuss how they can tackle one of the biggest killers of teenage girls worldwide: pregnancy.
According to the Department for International Development (Dfid), a woman dies from pregnancy-related complications 'every two minutes'.
At the London Family Planning Summit, hosted by the UK Government and the Bill and Melinda Gates foundation, world leaders will discuss how better access to contraception could save millions of lives.
"It's not just about saving lives," said international development minister Stephen O'Brien to Huffpost Lifestyle.
"Although clearly that's fundamental, it's also about gender and the rights of women to make choices."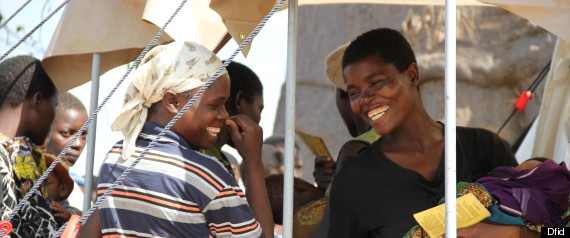 Mothers in Malawi who want access to contraceptives
"And that starts with making sure they have the chance to have healthy lives, including during the time they are pregnant. Giving birth can be one of the most dangerous things a woman can do in poorer communities."
Summit delegates from 20 to 25 countries, including the US, India, Ethiopia, Nigeria and Tanzania, are hoping to get 120 million women better access to contraceptives, information and services by 2020.
Scroll down to meet the women who will benefit (PICTURES/VIDEO)
Inevitably, American-based catholic groups and anti-abortion blogs have tried to undermine the summit's progress - accusing Melinda Gates of mounting a "blatant attack on Catholic sexual morality".
However, O'Brien seems surprised the campaign's targets have come under fire.
"Of course I respect anybody that feels that this has an impact on their religious and faithful belief, but I see it from the other end," he says.
"This is really about making one of the highest positive impacts we can have on a woman's health."
Health ministers, charities, donors and private sector companies working in the family planning business will discuss increasing the global availability of contraceptives and how to empower women so they have more choices about sex.
Meet the mums from Blantyre, Malawi in Africa who need access to contraceptives
What women want: how family planning saves lives
It is estimated that 220 million women around the world do not have access to contraceptives or information on them.
In some countries women need written consent from their husbands before they can talk to a doctor about contraception while in some places family planning services are not offered to adolescents or unmarried women.
However, in the development minister's experience, the problem is not one of culture, but of access.
"I regularly travel to countries in Sub-Saharan Africa, but I haven't really encountered local community concern.
"Once a clinic is established - where services can include immunisation of children, advice on family planning, and access to contraceptives - far from being met with a sense of resistance, they welcome it."
The main issues are practical, he comments, as the supply of contraceptives will regularly run out.
Family planning issues also affect women in the developed world, he acknowledges. Britain has one of the highest teenage pregnancy rates in Europe.
"The NHS should offer comprehensive access to contraceptive services to women of all ages and free supply of all methods of contraception. And if any MP finds that's not what's happening, then they must hold the NHS to account," he states.
Find out more about the campaign from Secretary Of State Andrew Mitchell