The owner of the most expensive artwork ever sold at auction - which just so happens to be the world's most famous artwork, Edvard Munch's The Scream - has been revealed as New York financier Leon Black.
The billionaire paid $119.9m (£74m) for one of only four versions of the painting in existence at Sotheby's last month.
The Wall Street Journal is reporting that several close friends of Black have confirmed he is the man who sent a shock wave through the art world, spending big even by the standards of the global art trade.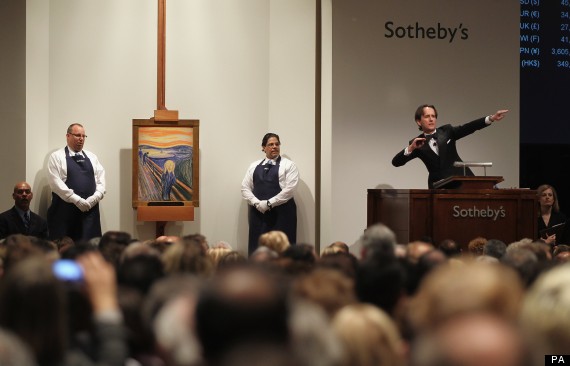 The Scream goes under the hammer in May
Black is a well-established art collector who already counts works by Vincent van Gogh, Raphael and JMW Tuner amongst a $750m collection. He also serves on the boards of New York's Metropolitan Museum of Art and the Museum of Modern Art.
His personal fortune is estimated to be at $3.4bn.
The 1895 version of the painting was sold in 12 minutes in May and included a hand-painted frame and by Munch and a poem by the artist describing how he 'shivered with anxiety' when painting it.
Black's triumph didn't come easy: 5 bidders from the US and China made initial bids as the American took part via telephone.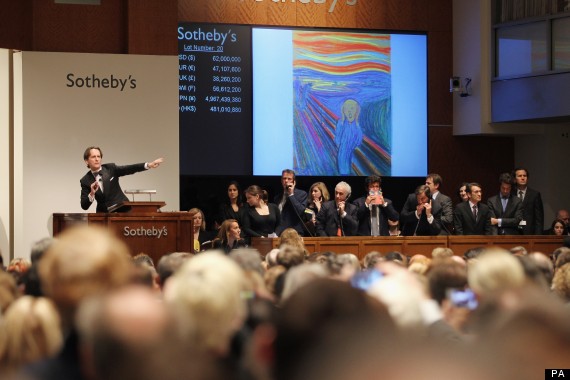 It was to be the most successful auction for an artwork ever
When the price reached $80m is was down to him and one other collector against whom he eventually won out by offering the record fee.
The enduring fame and fascination with The Scream will ensure Edvard Munch continues to be one of the world's best-known artists.
SEE ALSO:
However, a current show at London Tate Modern is offering UK art lover the chance to consider his work outside the shadow of his most well-known masterpiece with an exhibition exploring other work by the Norwegian Expressionist.
Most Expensive Artworks Ever