Parts of Britain have been warned to expect further flooding today as forecasters predict yet more downpours.
A band of heavy and persistent rain is set to hit the South West this morning before spreading across southern parts of England and Wales during the afternoon.
The Met Office has issued a yellow warning of rain across the south and south west of England, saying that flooding is likely due to the already rain-sodden ground.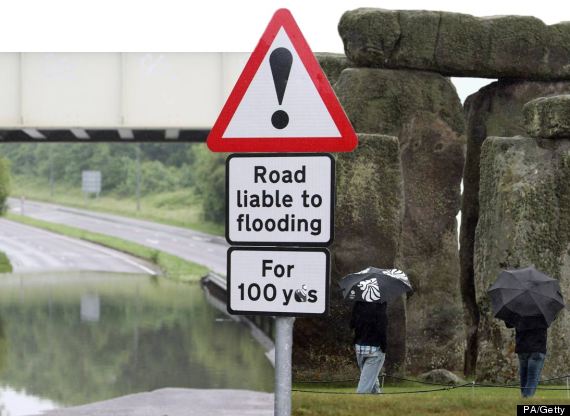 Double the average rain fell during June while April was the wettest in records dating back more than a century to 1910
The Environment Agency (EA) has issued two flood warnings in the South West and 24 flood alerts across other parts of England.
There are growing fears that the bad weather could affect the Olympic torch relay, which visits Wiltshire and Dorset over the coming days.
Britain has already had the wettest April and June on record, with flash floods bringing misery up and down the country. The weather has dramatically affected the whole country, causing chaos for weeks
The bad weather is set to continue tomorrow with the heavy rain moving across the Midlands, East Anglia and parts of northern England.
Over the weekend, Saturday will see scattered showers with the risk of thunder and heavy rain bursts in southern and eastern parts of England, but Sunday could bring a dry spell to large swathes of the UK.
Thunderstorms and persistent showers drenched the south coast of England on Wednesday.
UK Weather: Rain, Flooding, Doom and Gloom. The British Summer In Pictures