Firms who fail to deliver on their contracts should be pursued for the money, the Prime Minister said following the Olympic security row.
Ministers were forced to draft in an extra 3,500 military personnel to protect London 2012 venues after private company G4S admitted it might not be able to provide enough guards.
David Cameron's comments came as an MP accused G4S of "compounding a felony" by charging "colossal" fees for a "very poor service".
Cameron said: "I'm absolutely clear that if companies don't deliver on their contract then they should be pursued for that money."
He added: "I think we should be raising our sights, and thinking of the incredible inspiration that these Games are going to bring.
"The facilities are built, the country is ready, we are in really good shape." The security firm have fallen short on their obligations for security staff
But Ian Swales, a member of the public accounts committee that has examined some G4S Olympic contracts, said the firm should have provided a "Rolls Royce service" after hiking up its charges by £198 million.
The Liberal Democrat said MPs had raised concerns about what appeared to be massive profit margins on the contract after fees were increased when the need for extra staff grew.
"We were really concerned because when the announcement of doubling of the number of security personnel was made we looked at the breakdown of the costs and we saw that the G4S contract was going up from £86 million to £284 million, which felt like a colossal amount of money," he told BBC Radio 4's World at One.
He said the programme management costs, which cover training and recruitment, went up from £7 million to £60 million, while operational costs increased from £3 million to £65 million.
"You would expect to get a Rolls-Royce service for this amount of money."
He added: "We have been pressing on this for months.
"Our assumption at the time was that it felt like there was a massive profit margin for G4S but I guess we never expected that we would then not get the service that was being requested.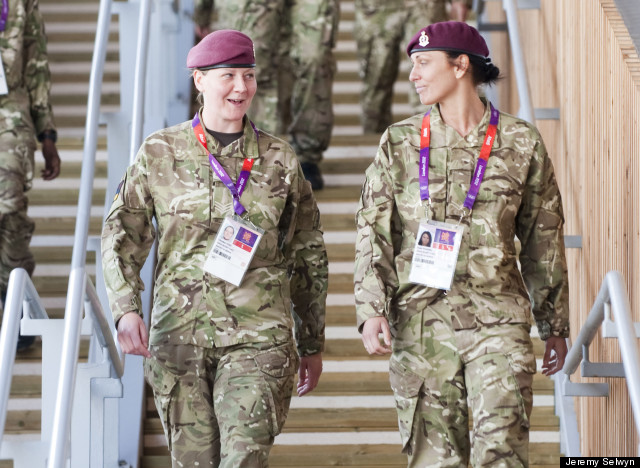 3,500 extra military staff will step into the breach to cover for G4S' shortfall
"For these large amounts of money you would expect excellent service so to me this is just compounding a felony, vast sums of money buying a service that is very poor quality it would appear."
G4S was initially contracted by Games organiser Locog in 2010 to provide 2,000 security staff for £86 million, but that figure has since risen to 10,400 personnel in a contract now worth £284 million.
With just two weeks to go until the opening ceremony, the Government has drafted in an extra 3,500 military personnel to protect London 2012 venues after private company G4S admitted it might not be able to provide enough guards.
More than £200 million was wiped off the firm's market value amid accusations that the company has let the country down.
Home Secretary Theresa May told MPs that ministers were only told of the "absolute gap in the numbers" on Wednesday.
Mrs May denied it was a "shambles" and insisted there was "no question of Olympic security being compromised".
Asked whether there would be any financial penalties for G4S on its £284 million contract, Mrs May said the firm's deal was with Locog, but she understood that penalty clauses were included.
READ MORE:
A total of 17,000 servicemen and women will now be involved in the Olympics, including 11,800 soldiers, 2,600 sailors and marines, and 2,600 airmen.
Some 11,000 of these will be involved in the security of more than 30 sporting venues and some 70 non-competition venues, including car parks and hotels, while others will carry out specialist support roles including air security, search teams, communications and logistics.
Overall, a 23,700-strong security force for the Games will include a mix of military, private security guards and at least 3,000 unpaid London 2012 volunteers.
Defence Secretary Philip Hammond acknowledged the extra burden on military families, but said bringing in extra resources was "prudent" and insisted the deployment "will have no adverse impact on other operations".
Keith Vaz, the Labour chairman of the Commons Home Affairs Select Committee, said: "G4S has let the country down and we have literally had to send in the troops."
He summoned G4S chief executive Nick Buckles to appear before the committee next Tuesday to explain the problems.
Shadow home secretary Yvette Cooper said the situation looked like "another Home Office shambles", with G4S falling 25% short of its contract.
G4S, the largest employer on the London Stock Exchange with more than 650,000 staff worldwide, admitted it was experiencing "some issues in relation to workforce supply and scheduling" and had accepted that the Government was turning to the military for extra help.
A spokeswoman added: "This has been an unprecedented and very complex security recruitment, training and deployment exercise which has been carried out to a tight timescale."
Its workforce will conduct physical searches, operate X-ray machines and carry out perimeter searches at the Games.
end
Mr Buckles and G4S global events specialist Ian Horseman-Sewell will give evidence to MPs on the Commons Home Affairs Select Committee on Tuesday, a spokesman for the committee said.
Students applying for jobs with G4S last year were as young as 17 as they would still have reached the minimum age of 18 by the start of this month, messages on internet forum The Student Room showed.
One wrote last August: "I passed the interview. No experience in security or anything and they signed me up for X-ray scanner.
"They claimed I would get a job if I passed the clearing phase, which takes up to 3 months ... typical British efficiency hahaha."
Another added: "It's all a bit intimidating beforehand, but as soon as you get there all the interviewers are barely 25, really nice and sympathetic. I had no exp. either."
Other posts suggested the interviews involved simple sight and smell tests, a document check and questions about when the applicant resolved a conflict and what actions were taken.