Could Katie Price be getting broody again?
Well it certainly looked that way as she cuddled up with her goddaughter - BFF Michelle Heaton's six-month-old daughter Faith - for a Twitter picture.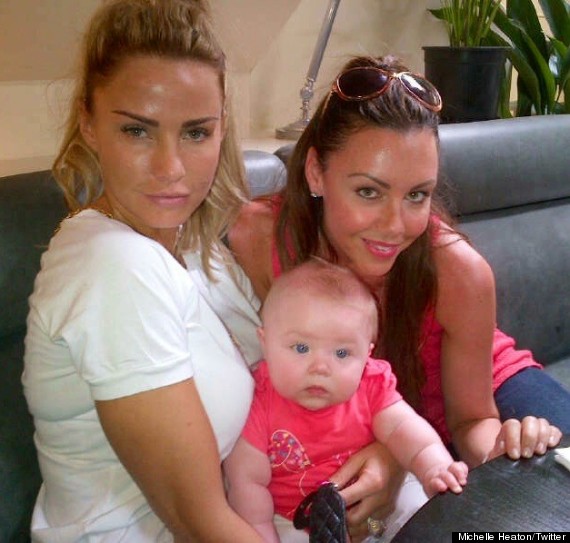 "Family day out with god mum @MissKatiePrice &@leandro__penna having lunch lovely day," Michelle wrote as she posted the snap on the social networking site.
Katie - who is already mum to Harvey, Junior and Princess - has previously spoken about her desire to have trillions more kids to join her brood.
And now that she has snared herself a not-so-unattractive fella in the shape of Argentinian model Leandro Penna, the thought of having lots of mini-Leos running around is likely to be on her mind.
As if having Katie Price cooing over her wasn't enough, little baby Faith was also accidentally locked in a car by her mother earlier this week.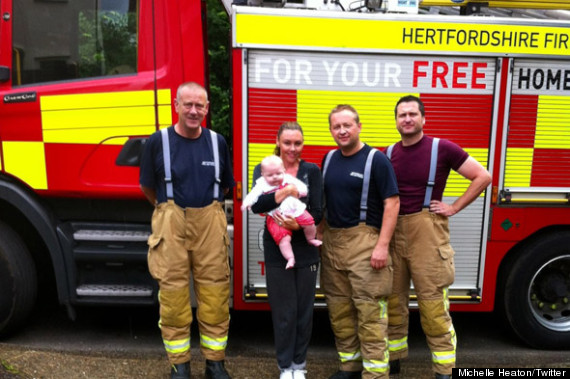 Baby Faith is rescued by the fire brigade after Michelle locks her in the car
On Wednesday, the tot had to be rescued by the fire brigade after Michelle shut her in the car along with her keys and phone.
Telling the story of her Mum fail on Twitter, Michelle told her followers: "Just has the worst hour of my life. I locked faith , my keys & my phone in the car. Somehow the car locked when I shut the door," tweeted the panicked mum.
"Thank you to my next door neighbour who called the Hertfordshire fire brigade. They were so, so amazing. They really did save the day. We thought we would have to break the window.
"But that would have frightened an already upset Faith...but with perseverance and amazing skills, these fine men somehow used wood & a cost hanger to press the jets to unlock the car. I can't thank Hertfordshire fire brigade enough. Me & Faith owe you #britishfiremenrule."
> IN PICS: PREGNANT CELEBS