The first Olympic athletes arrived at Heathrow on Monday morning, with the airport expecting to handle a record number of passengers.
A total of 335 athletes are expected today as well as 236,955 passengers, breaking the previous record of 233,562 set on 31 July 2011.
Three-hundred and thirty-five Olympians from more than 50 countries, with family members, are set to pass through the airport on Monday, with the US sailing team among the first to arrive. Members of the US Olympic team arriving at Heathrow Airport on Monday morning
Heathrow came under media scrutiny this weekend after a border control officer turned whistleblower told The Observer that he'd seen terror suspects passing through passport control without being referred to counter-terrorism officers.
The airport has also come under fire over waiting times at immigration checkpoints.
However, on Monday everything appeared to be operating smoothly, with Heathrow operator BAA saying that immigration waiting times have been within the targets set by the Home Office since new resources were put in place yesterday.
BAA added that additional staff are on duty in the baggage hall to quickly reunite Olympic teams with their baggage and equipment.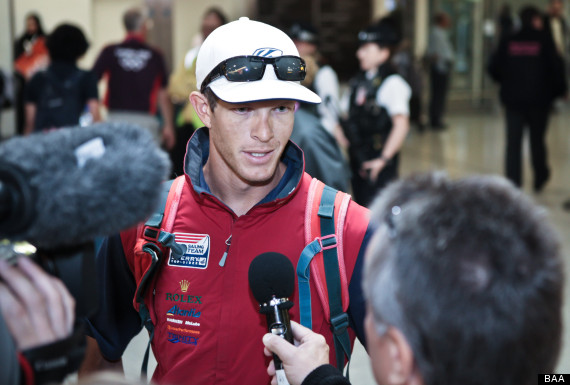 Trevor Moore from the US sailing team speaks to reporters at Heathrow
Athletes travel with around twice the number of bags as regular passengers - an average of nearly three items per athlete.
The busiest day for arriving athletes is expected to be July 24, when 1,262 athletes and coaches and 3,008 other Olympics-related arrivals are predicted.
More than 500 Heathrow and Locog volunteers, speaking more than 20 languages between them, welcomed groups of Olympic athletes and officials from their planes today.
London 2012 accreditation desks were operational in each terminal, allowing Games family members to collect their accreditation for the Olympic Village as soon as they arrive. On the case: Extra staff have been drafted in to deal with the Olympic baggage
London 2012 coaches operated from airport forecourts for the first time today to transport athletes to the Olympic Village.
Nick Cole, head of Olympic and Paralympic planning at BAA, said: "Today heralds the start of Britain's biggest peacetime transport challenge and Heathrow's busiest ever period.
"The Olympic and Paralympic Games are a marathon, not a sprint, for Heathrow.
"The airport has some major challenges ahead, including unprecedented numbers of departing Olympics passengers and bags on August 13 and Paralympic arrivals and departures in August and September."
Some familiar faces greeted British Airways customers arriving into Heathrow Terminal 5.
A sea of greeters wore masks picturing famous British sports stars including Sir Chris Hoy, David Beckham, Mark Cavendish, Andy Murray, Lewis Hamilton, Paula Radcliffe, Rebecca Adlington, Tom Daley and Ryan Giggs.
ALSO SEE:

London 2012: Who Should Light The Olympic Cauldron? (POLL)

Fresh Questions Emerge Over G4S Olympic Security As Athletes Descend On Capital
Brother and sister Jefferson and Jennifer Liu, aged 18 and 15 respectively, touched down from Hong Kong.
Jefferson said: "It was a lovely welcome and surprise. We were at the Beijing Games four years ago and are very excited to be in London this time around."
Heathrow expects that 80% of all visitors for the Games will pass through the airport in the coming weeks, including sponsors, officials, coaches and athletes.