G4S faces continued pressure today over the Olympics security debacle, as share prices fell.
Yesterday bosses at the private security firm insisted they would be claiming tens of millions of pounds in management fees despite admitting being 100% responsible for a "humiliating shambles".
By the end of Tuesday, G4S shares had fallen 17% since the crisis emerged last Wednesday, wiping £700 million from its market value.
And in a further twist, retired police officers claimed last night they were told that they were no longer needed to help with security at the Olympics because they were "surplus to requirements".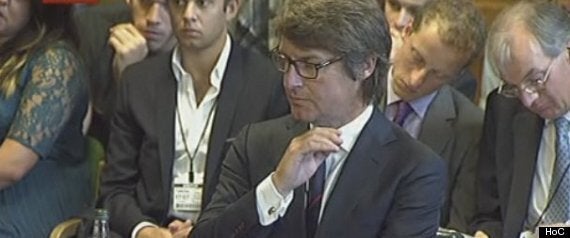 Buckles says the reputation of G4S is 'in tatters' but he will still take his massive management fee
Chief executive Nick Buckles is under pressure to quit his £830,000-a-year job over the fiasco, which has resulted in the emergency deployment of soldiers, marines, airmen and police officers.
But he repeatedly insisted the firm still intended to claim its £57 million management fee for work over the last two years.
"We have managed the contract and we have managed on the ground," insisted Mr Buckles, adding: "We still expect to deliver a significant number of staff."
Keith Vaz, chairman of the Commons Home Affairs Select Committee, said it was "astonishing" and called on G4S to waive the fee and any others associated with the contract, while other MPs on the committee also criticised the firm.
Mr Buckles promised G4S would pay all police and military costs caused by its failure, cover any accommodation expenses and consider paying bonuses to individual officers and troops if considered appropriate.
He said he told organiser Locog on July 3 that his firm experienced a shortfall in staff over the previous weekend, in part due to its scheduling system not working properly.
It was monitored daily at meetings with Locog and the Home Office but it was not until an Olympics Security Board meeting, chaired by Charles Farr, director general of the Office for Security and Counter-Terrorism, on July 11, that the firm said it was not going to meet its contract obligations.
Mr Buckles said during the eight-day delay the company set up a daily working party with Locog and the Home Office to work through the issues and "day by day" started to realised it could not deliver.
G4S took on the Olympics contract to boost its reputation, not its profits, he said, but insisted the £50 million loss the firm now faces was a "huge amount" - 10% of its annual £500 million profit.
He said it was a "complete and utter shock" when he was told on July 3, while on holiday in the US, that there would be problems delivering the contract, and he returned to the UK the same day.
The problem was that G4S did not have enough staff rather than that staff simply not turning up, he said.
He conceded he could not even guarantee how many security guards would turn up on the first day of the Olympics, but his "expectation" was that 7,000 G4S staff would turn up.
"We're still confident, together with the military and the police, that we can deliver a safe and secure Olympics," he said.
He added that 500 extra troops were also being held in reserve, in case they were needed.
Some 5,500 accredited employable guards were currently on the G4S database and on average about 70% of these accept employment when offered, Mr Buckles said.
Around 500 more people are being added to the database each day, he added.
But yesterday retired police officers claimed they were told they were no longer needed to help with security at the Olympics because they were "surplus to requirements".
David Anderton, secretary of the Merseyside branch of the National Association of Retired Police Officers (Narpo), said just days after he was sent an email offering employment at the Games for retired officers, he was sent another from the private security firm saying further recruitment was "surplus to requirements" because of the deployment of military and extra police resources.
G4S said the letter was sent about a week ago at a time when it had been refused dispensation to use former police officers who had not completed necessary training and accreditation, and they were not "surplus to requirements" but lacked necessary accreditation and cannot be employed at London 2012.
Yesterday Mr Buckles said the Olympics security debacle was bound to count against the firm, which has £600 million of private sector contracts with the Home Office.
He also revealed that G4S decided last week not to compete for the contract to run security at the 2014 World Cup and the 2016 Olympics in Rio, Brazil.
Culture Secretary Jeremy Hunt told Sky News the idea that failings in Olympic security were ultimately his responsibility was "ridiculous".
While the debacle was "humiliating" for G4S, he said that the Government had always had contingency plans in place.