Former American president Bill Clinton paid a visit to Nelson Mandela on the eve of the Nobel peace laureate's 94th birthday.
Mandela, who became South Africa's first black president in 1994, spent two hours with Clinton at his home in Qunu.
Clinton was in the region to open a library and primary school with Mandela's wife Graca Machel and daughter Zindzi.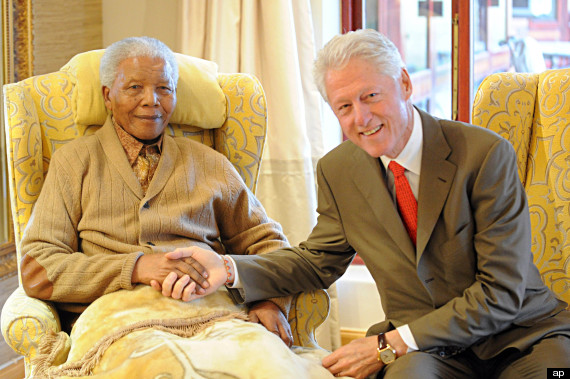 Reunited: Nelson Mandela and Bill Clinton pictured at his home on July 17
Clinton told AFP: "Even though he will be 94 tomorrow, when I think about Mandela I always think about someone committed to the future.
"It was a great honour for me to serve as a president of America while Mandela was president of the Republic of South Africa.
"We worked together as presidents and even after we left office we continued working together to improve education of the children worldwide in order for them to share the future."
SEE ALSO:
Mandela, who spent 27 years in prison fighting racist rule, was hospitalised briefly in February and has largely withdrawn from public life.
To commemorate his remarkable life on his big day, we've collated 94 images of him throughout the ages, including his prison mug shot, meetings with heads of state, past and present including Muammar Gaddafi, the Queen and Margaret Thatcher.
We've also unearthed pictures of the great man with the Spice Girls, Michael Jackson and His Holiness, the Dalai Lama.
The special day has also become known as Mandela Day - an initiative of the Nelson Mandela Foundation. People worldwide are encouraged to devote time (specifically 67 minutes in recognition of his 67 years of service) community service to pay tribute to the anti-apartheid icon.
You can make your own pledge for global good at the official pledge book - a cause already receiving support from the likes of Desmond Tutu, Charlize Theron, Eddie Izzard, Jamie Oliver, One Direction and Lewis Hamilton.
Izzard, who sadly had to abort a marathon tribute to the icon, said: "Nelson Mandela is my greatest inspiration and on 18 July, his 94th birthday, is still a shining example to the world of what is possible.
"That is why I am joining millions building his legacy - Nelson Mandela's global movement for good at Mandela Day Pledge. I urge you to do likewise."
A statement from the One Direction camp said: "Nelson Mandela is an icon of our time and the idea behind Nelson Mandela Day is for people to take a moment to think of other people and even pledge a little time to help. Nelson Mandela turns 94 on July 18th, he has donated 67 years of that to helping others. Join us in the pledge book."
What's more, every person who pledges will automatically be entered in to a draw to win the chance to fly to South Africa and present the Pledge Book to the Nelson Mandela Foundation with a partner, courtesy of South African Airways.
Happy Birthday, Nelson Mandela