A Royal Marine Commando today abseiled with the Olympic flame into the Tower of London.
Royal Marine Martyn Williams arrived at Tower Wharf in a Royal Navy Sea King helicopter, and undertook the 180ft descent from the aircraft - at 2012 hours.
He held the flame up proudly for media representatives gathered to witness its arrival in the host city, with seven days to go until the start of the Games.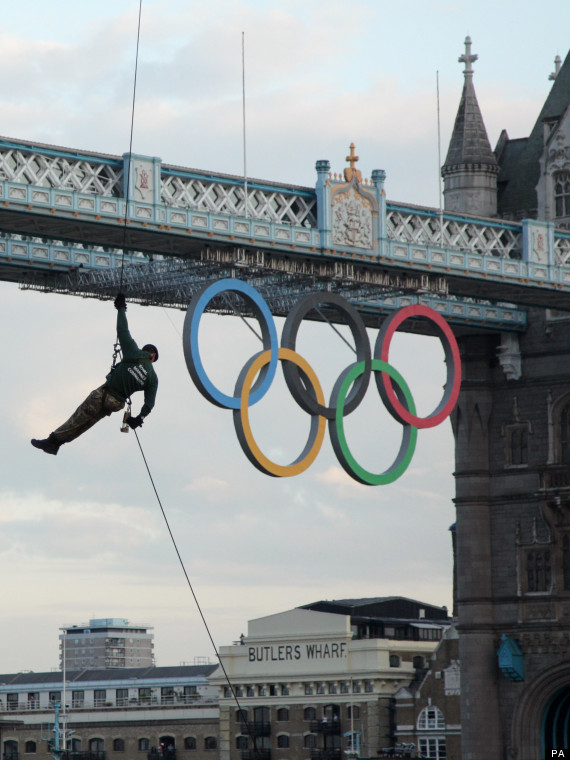 Royal Marine Martin Williams abseils from a helicopter with the Olympic Flame
Dame Kelly Holmes lit a torch and ran then walked around the ramparts of the historic landmark, stopping to be photographed as she went.
The torch was spending the night under guard at the 11th century Tower, which has already been pressed into Olympic service as a secure location where medals have been stored ahead of the Games.
It was welcomed by Mayor Boris Johnson and Lutfur Rahman, the mayor of Olympics host borough Tower Hamlets.
The torch is now due to make a seven-day journey around the London boroughs in the run-up to the opening ceremony.
It had been brought by military helicopter from Guildford in Surrey.
Mr Johnson said that as the torch goes on its London tour, "its radiance will dispel any last remaining clouds of dampness and anxiety that may hover over some parts of the media in this country".
He added: "It will spread the crackling bushfire of Olympic enthusiasm throughout this city and the country.
"I pledge that we will keep that flame burning brightly, that it may illuminate the many wonderful things about our city and our Olympics, tonight, and tomorrow, and in the weeks ahead."