This just might have been the last we see of the Ab Fab bunch, in the last of three specials celebrating the show's anniversary (after the two at Christmas, although there is talk of a big screen outing). What a shame, then, that it failed to do justice to a sitcom that once summed up its era so ruthlessly.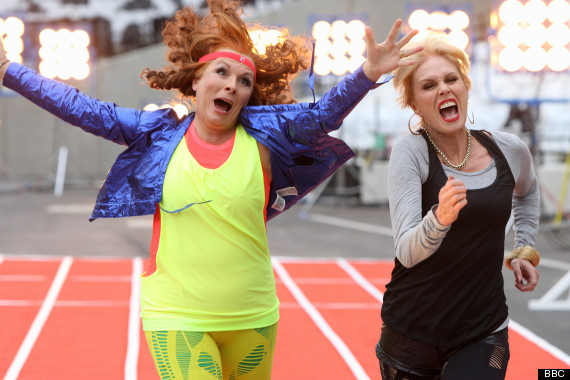 Have Edina and Patsy finally run out of ideas?
For a start, the set-up wasn't a strong one. Saffy was back from Africa, while Edina struggled with Stella McCartney's opening hours, before we rolled into an increasingly frantic build-up towards the Olympic hour, and the impending arrival in the house of A-list renter 'Michael Douglas' – cue jokes about his sex addiction - a choice of name which summed up the problems here - not quite funny enough and all a little bit 1990.
There were a few funny lines in the half hour – most of them, as ever, in Patsy's weary asides..."I'm not completely secure when I sneeze" was a goodie, as was "I can see a panty line" "I'm not wearing any pants."
But the trick to filling in 30 minutes of airtime with 15 minutes of material seemed to be, quite literally, often saying the same line twice and hoping we wouldn't notice.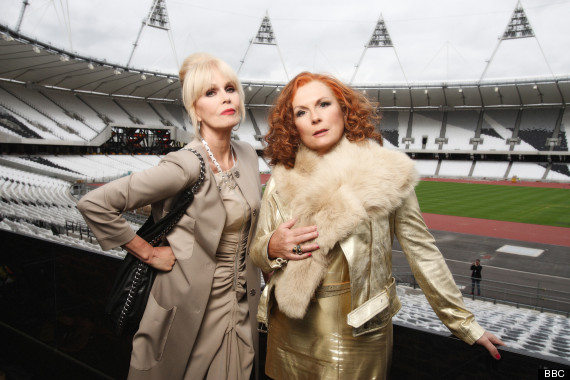 The excesses of Patsy and Edina seemed to belong to another age
The worst bits, however, were reserved for the treatment of Saffy, reduced to serving drinks in African ceremonial dress. "I like what you're wearing, I once had a tablecloth like that," said Mother. "What did he do, trade you in for a goat?" asked Edina. This is sub, sub-Alf Garnett, and about 40 years too late.
I realise sitcoms don't necessarily demand the kind of character evolution we see in, say, The Wire, but it would have been satisfying to see somebody change in some way, or make an interesting decision, if only to acknowledge that this was their swansong, instead of this cartoon. Cross fingers they're saving all that for the film version.
Poignantly, at one point, Edina reflected, "There's so much new stuff happening, and I just can't keep up."
I hate to say it, because I am a huge, longtime fan, but, on the basis of this, the same could be said for Jennifer Saunders, an incredibly warm, funny woman in person, but whose purse-lipped, sneering waspishness as Edina belonged to another age, shared by Blackadder, around the time of his Renaissance incarnation, and Harry Enfield.
And laughing at people's selfish excesses in a time of such austerity seems particularly redundant. The news we get on a daily basis of bankers' bonuses, etc. is satire enough.
It may have been a sentimental decision to commission these three shows, to say thank you for the laughs it used to give us. I'm not sure resurrecting it in this thin form paid the original show the debt it was owed, even if it was, almost but not quite, rescued by the very last shot, the abiding vision of Edina holding aloft the Olympic torch, and Patsy lighting her fag on it.
Absolutely Fabulous Olympics Special