"I enjoyed my own wedding a lot more," says Dan Stevens about the time, in series three, when Matthew Crawley finally makes it down the aisle with Lady Mary.
He notes that his big day on Downton Abbey was "freezing with a lot of security".
However, Michelle Dockery, who plays his beautiful new wife Lady Mary, was more upbeat about the long-awaited occasion...
"The dress was stunning, it was beautiful to wear. Particularly this series, I love the fashion and it's a bit more modern and there's something easier about the structure of the dresses," Dockery, who recently scooped an Emmy nomination for Best Actress for her role in the ITV period drama, explains.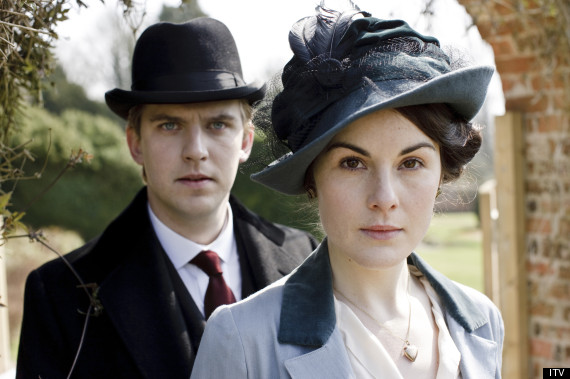 Matthew Crawley and Lady Mary
"I certainly got those [wedding day] nerves because everyone is waiting to see the dress. People were waiting to see it and it did take a long time to get ready," she adds.
And, without giving too much away, I can tell you that Carson's and Lord Grantham's faces say it all when she floats down the main staircase of Downton draped in white.
READ: Series 3 Needed An 'Equal Match' For Dame Maggie Smith, Say Show's Creator
For Matthew, series three sees him take on more responsibility: "He's incredibly lucky, first he finds out he's heir to Downton, then he makes a miraculous recovery by being able to walk again and then suddenly he inherits enough money to save the estate.
"As a consequence he takes on more responsibility with Robert and they do come to blows about how the estate should be run and managed, bit by bit he drags it into the modern world."
Of course Downton's acclaimed writer Julian Fellowes would never let it all be happy ever after for one of the show's favourite turbulent couples...
"There are still moments beyond the wedding where Matthew is realising quite what he's marrying," hints Stevens.
PHOTOS: Take a look back at Downton Abbey series 2...