Kim Jong-Un and his wife Ri Sol-Ju have been pictured together touring a bizarre looking theme park, as reports suggest the couple may have been married for three years and have a son.
Late leader Kim Jon-Il chose Ri Sol-Ju to be his son's wife as early as 2008, one analyst told the South Korean Korea Times newspaper, quoted by news agency AFP. The two look at things whilst visiting theme park Rungna People's Pleasure Ground in Pyongyang.
Ri studied music, and was born in 1989, according to Yonhap news agency, making her younger that Kim Jong-Un, who is believed to be in his late 20s.
Some of the clearest snapshots of North Korean leader Kim Jong-Un with his wife Ri Sol-ju at a theme park were released by the state news service on Wednesday.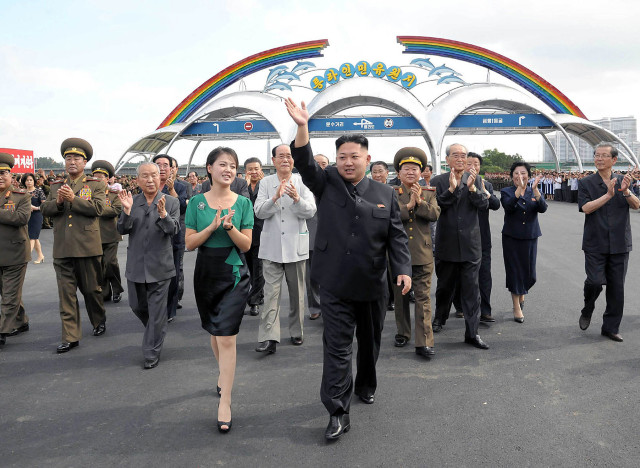 South Korean media reports suggested Ri studied music in China
In recent weeks, speculation had mounted over the identity of a mystery young woman frequently pictured with the leader, with reports suggesting she could be the leader's girlfriend or his sister.
However Wednesday's shock announcement of the nuptials took the world by surprise.
The most recent pictures of the Supreme couple relaxing at a theme park further fuel speculation that the new leader may be relaxing his approach to international relations. Kim Jong-un looked relaxed and happy whilst enjoying one ride
Ri Sol-Ju's Western hairstyle and dress were first noticed when she was seen pictured next to Mr Kim at the 18th anniversary of the death of North Korea founder Kim Il Sung, the new leader's grandfather.
She was also by Kim Jong Un's side at a concert where costumed Disney characters performed for the couple and a host of generals.
North Korea's aggressive nuclear arms programme and long-running animosity with the West means American characters such as Minnie mouse, Tigger and Dumbo are hugely unlikely presences in the communist nation.
Take a look at some more pictures below.