Being an Olympian is not just about winning gold medals and setting records, Michelle Obama said on Friday, as she urged youngsters to stay healthy and "believe in" themselves.
Olympic athletes are not simply born, but work hard for their success and refuse to give up, the US First Lady said.
Speaking at a Let's Move! event at the US Ambassador's residence at Winfield House, Regents Park, Obama also paid tribute to US military families stationed in the UK, telling them: "We are incredibly proud of you."
Around 1,000 American and British children took part in this morning's activities, joining in with sports such as basketball, tennis and football, and meeting US and UK athletes before gathering to hear the First Lady speak.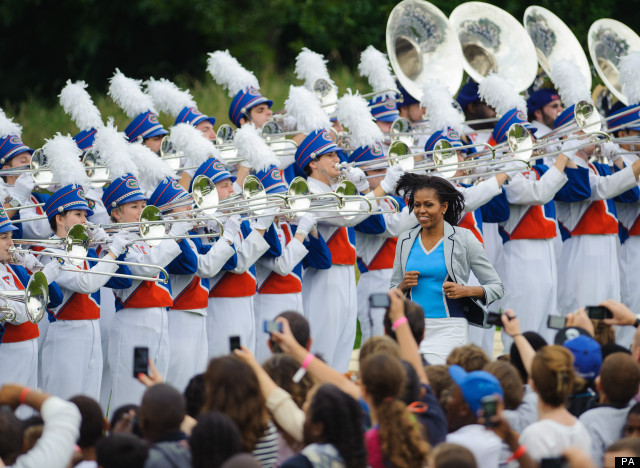 The First Lady jogged out to the event accompanied by the University of Florida marching band
A casually dressed Mrs Obama jogged past rows of excited schoolchildren on to the stage, accompanied by the University of Florida Gator Marching Band who were playing their fight song.
After telling the crowd she was "so excited" to be there, she turned to the US athletes standing behind her, who between them have won dozens of Olympic medals, and said: "You're not born an Olympian, right?"
She told the youngsters: "In fact, many of them started out just like you, just playing.
"What they did do is they stuck with it.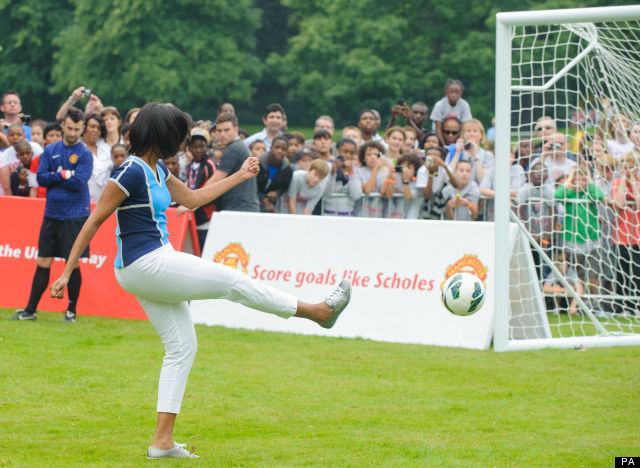 Shades of Diana Ross in 1992
"When they got tired and frustrated or fell short, they didn't give up."
The Let's Move! event, to combat childhood obesity, was Obama's second engagement on Friday.
Earlier she gave her own personal good luck to Team USA ahead of Friday's opening ceremony.
Obama finished her speech at the Lets Move! event by telling the youngsters that one of them may become an Olympic athlete in the future.
Obama found time to hang out with football icon David Beckham
"Whether or not you grow up to become an Olympian or Paralympian, you all have so much promise. I want you all to know that.
"Think in your heads 'I'm important, I have promise, there are things I can do'.
"I believe in each and every one of you."