A bible owned and inscribed by Elvis Presley is one of 100 items being auctioned to commemorate the 35th anniversary of the king of rock n' roll's death.
The 1,600 page, gold leather embossed bible was a Christmas gift in 1957 from his aunt and uncle Vester and Clettes Presley.
Omega Auctions spokesman Paul Fairweather said: "The Holy Bible was Elvis Presley's most precious book throughout his life from Christmas 1957 to his final day and he read and wrote in this Holy Bible over many years. Elvis Presley died on on August 16 1997
"The bible contains Elvis's personal annotations throughout its fragile pages."
It is accompanied by a letter of authenticity, personally signed by Vester Presley.
Scroll down for more pictures of Elvis Presley, the bible and Graceland
A 14 carat gold pendant chain worn and owned by Presley is also among the rock legend's most treasured possessions which are going under the hammer.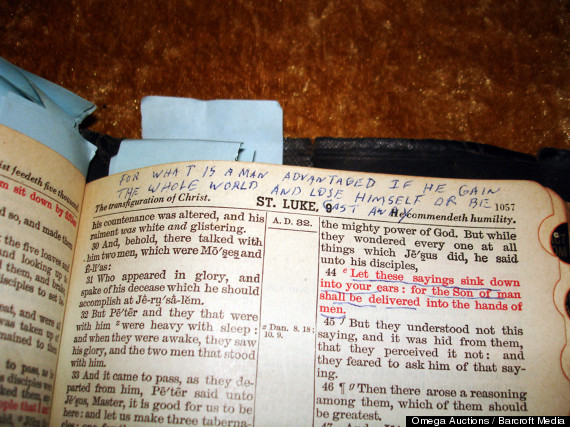 The bible features hand-written notes made by Presley himself
Presley died 35 years ago on August 16 1977 and many of the lots have not appeared on the market before.
The chain is one of the original Schwartz and Ableser TCB pendant necklaces and was on display at the Elvis-A-Rama Museum before it was sold to Graceland.
A spokesman for the museum said: "This is an original TCB pendant and chain that Elvis Presley designed with Beverly Hills jeweller Lee Ableser of Schwartz and Ableser's Fine Jewellery.
"Elvis handed these out to the closest of his friends and Memphis Mafia members".
In 2009 a similar pendant owned by Presley sold for US$120,000 (£76,500).
The auction will take place at Omega Auction house of Stockport on Saturday September 8th 2012.