Britain was left buzzing on Wednesday after storming up the medal table to 11th with two golds, one silver and two bronzes.
The nation had started to get a bit jittery about the lack of gold medals, but it needn't have.
The day got off to a brilliant start at Eton Dorney with Heather Stanning and Helen Glover zooming to a gold medal in the women's pairs. Hull of an achievement: It's elation for Stanning and Glover
They finished by a clear length, crossing the line after 2000m of flat-out rowing with a time of 7:27.13.
Remarkably, Glover only picked up the sport four years ago when she was spotted through the Sporting Giants programme.
The Minerva Bath RC member said after the race: "If you work hard and try your best absolutely anything is possible."
Next it was the men's eight and Constantine Louloudis, Alex Partridge, James Foad, Tom Ransley, Ric Egington, Mo Sbihi, Greg Searle, Matt Langridge and cox Phelan Hill put in a seriously gutsy performance, winning bronze behind Canada and winners Germany.
The successes in the rowing made headlines across TV news programmes and internet newspapers, but attention soon turned in the afternoon to the men's cycling time trial at Hampton Court, where Bradley Wiggins and Chris Froome carried the expectation of a nation.
And they didn't disappoint.
Chris Froome came second in the Tour de France with Wiggins winning the prestigious race.
And it was almost another British one-two.
Wiggins, still clearly in the same sort of form that won him the Tour, blasted through the course, clocked a time of 50:39 – and found himself on the highest point of the podium shortly afterwards.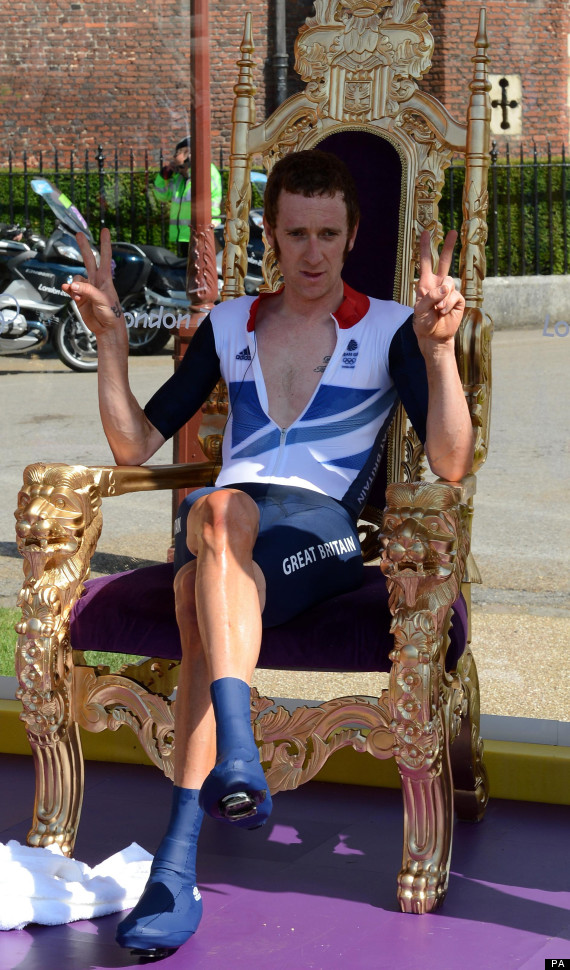 Making Britain proud: Wiggins is the king of the time trial
It was a sensational performance. And Chris Froome also did exceptionally well.
He came in third with 51:47, not an awful long way behind world champion Tony Martin from Germany, who earned silver with a time of 51:21.
Wiggins' gold makes him officially the most successful British Olympian with seven medals - four gold, one silver and two bronze - beating Sir Steve Redgrave's six.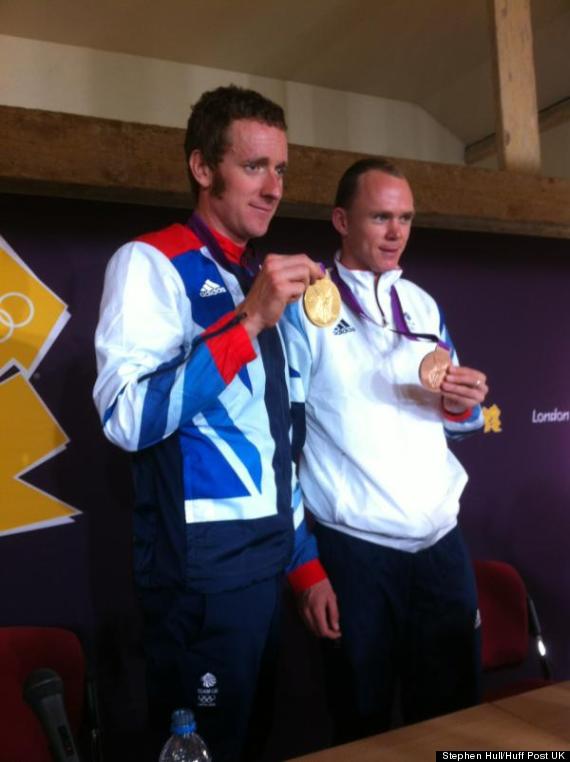 Wiggins and Froome show off their medals to the world's media
After the race, watched by a crowd of around 300,000 people, Wiggins said: "Vodka and tonic, I'll have a few of them tonight."
Praise for Wiggins poured in afterwards with former England player and BBC sports presenter Gary Lineker describing him as "an absolute hero" on Twitter and Boris Johnson tweeting "what a day!"
In the evening it was the turn of the swimmers to vie for glory and again, they did the nation proud, with Glasgow's Michael Jamieson breaking the British record in the 200m breaststroke final with a time of 2:08.20 to claim a very well-earned silver medal.
It took a world record from Hungary's Daniel Gyurta to deny him the top gong.
Andrew Willis, meanwhile, finished in eight place. Michael Jamieson (left) wins silver alongside team mate Andrew Willis (right)
Speaking afterwards, Jamieson said: "What an amazing night.
"The crowd was absolutely unbelievable, I can only thank everyone again for all their support.
"It's been a pretty special week, I've done everything I wanted to."
Speaking of being the fourth medal winner of the day, Jamieson added: "It's been a good day for Team GB all round, and my team- mate Andrew has had another fantastic swim again tonight.
"It all bodes well for the future."
Bradley Wiggins - A Career In Medals