Hairless, quivering and outrageously cute. But enough about me, take a look at these guys.
This orphaned kangaroo and a wombat have become the best of friends after being brought together at the Wildlife Kilmore Rescue Centre in Victoria, Australia.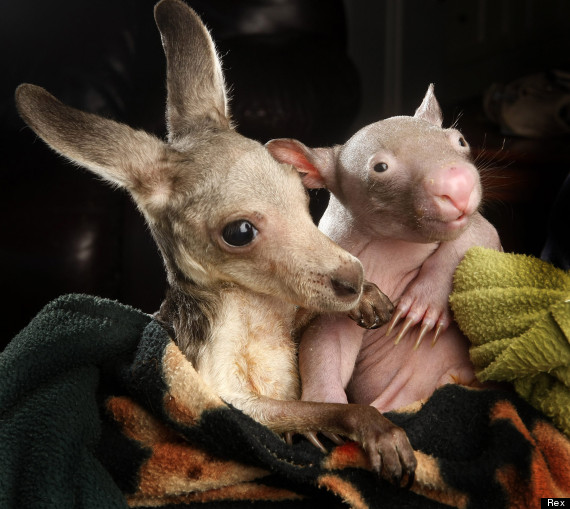 Anzac the orphaned joey and Peggy the wombat enjoy a cuddle at a wildlife centre in Australia. The pair are comforted by each other's heartbeats
Anzac the joey was rescued in the Macedon Ranges and was placed with Peggy the wombat after keepers sensed he was missing his mother. The pair hit it off so well they now sleep together in a specially-made pouch.
Worker Lisa Milligan said the unlikely couple are comforted by each other's movements and heartbeat.
Scroll down for more achingly cute pictures
SEE ALSO:
She said: "There are lots of baby animals about at the moment, and they are orphaned for a range of reasons".
The pair apparently have similar personalities, with Anzac being described as "very social", while Peggy is known to be boisterous and cheeky.