After splitting from Dannii Minogue, you'd expect Kris Smith to wait until he found someone who could match up to his impressive ex, but no, he's opted to date a reject from Take Me Out. Dannii and Kris in happier times
The singer-turned-TV star ended her three-year romance with the former rugby player in April, but recent reports suggested the pair was willing to give the relationship another go for the sake of their little boy, Ethan.
However, Dannii has been dealt a blow after hunky Kris hooked up with Sara Beverley Jones, a two times Miss England finalist who looked for love on ITV's hit dating show.
The pair was spotted giggling like schoolkids over lunch, and insiders insist they are getting close.
A source tells The Mirror: "Kris has known Sara a long time and they have quite a few mutual friends. But recently they've grown much closer.
"She's a really stunning girl and he's a good-looking guy, so perhaps it's not that surprising. It's early days but they're very much into each other.
"Kris and Sara were clearly close - they spent ages giggling flirtatiously. They were very tactile, and they look great together."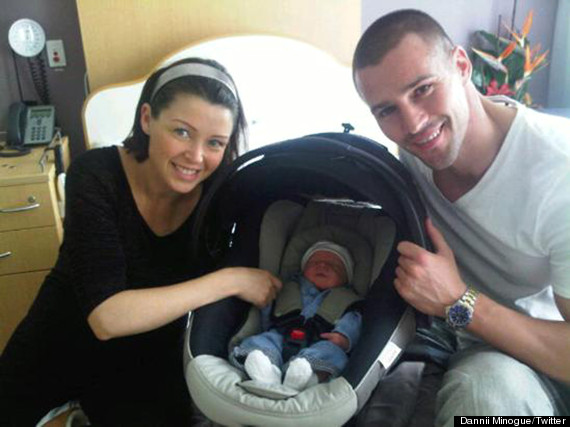 Dannii and Kris with their son Ethan just after his birth
Dannii's superstar sister Kylie revealed she had been lending an ear to the former X Factor judge after the split, but admitted the break-up had been hard on her younger sibling.
She told Glamour magazine: "She and Kris have been amicable, and after heartbreak and disappointment, then it's just organisation, concentrating on Ethan.
"We just have normal sister chats when we can - and that's all you need to know, that your sister's there. If she called me and said, 'I'm really flipping out, I need to see you,' I'd be on a plane tonight. But Dannii is tough... Dannii will be all right. Of course she'll be all right."
> CELEB PICS OF THE DAY