Soldiers complained on Friday about "horrible" living conditions, boredom and a lack of Olympics tickets as Boris Johnson visited their packed warehouse base in London.
The London mayor walked past soldiers sleeping on camp beds in the open, cramped rooms full of dozens of makeshift beds, people washing in plastic crates, smelly portable toilets and an outdoor kitchen as he visited the armed forces' accommodation in an old tobacco warehouse.
The sound of diggers and cranes filled the air as Johnson visited the recreation area - a small strip of concrete next to the old dock.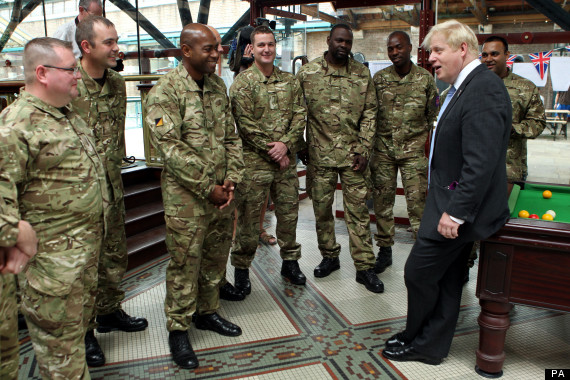 Johnson met the soldiers in their Olympic base in east London
"What is that there?" he remarked. "Should we go and intervene? It's probably Hare Krishnas or something."
Inside, some troops watched Britain win another rowing gold medal and posed for pictures with Johnson, but others told stories of missing holidays and having nothing to do while on standby or on downtime.
Drafted into the capital as Olympics security back-up in the wake of the G4S scandal, some 2,000 Royal Navy, British Army and Royal Air Force personnel now eat, live and sleep in Tobacco Dock in east London.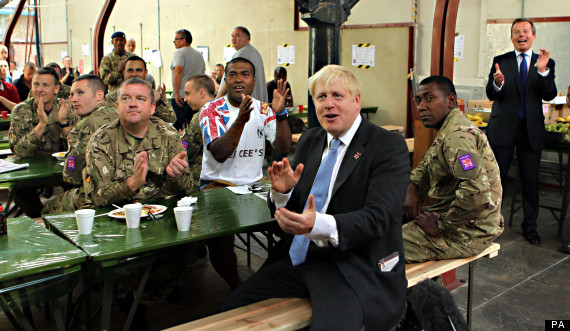 Soldiers have described their living conditions as "horrible"
One soldier looked on as the mayor watched the Games with soldiers eating lunch. But he was nonplussed about Johnson's visit.
"It's all right I guess, bit of free publicity," the soldier, who did not want to be named, said.
"To be honest, I don't like it here, it's horrible."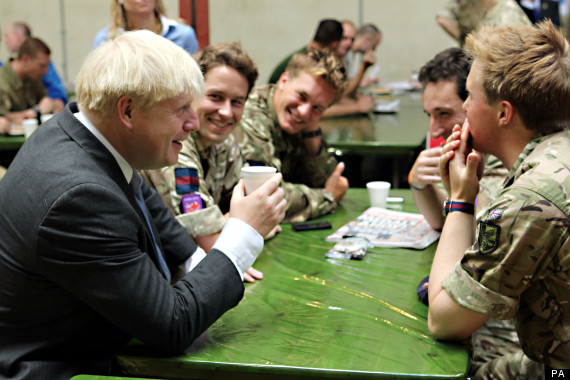 Some soldiers said the visit was merely a publicity stunt
Another group of four soldiers spoke to Johnson in the eating area, made up of makeshift wooden tables and housing two television screens showing the Olympics.
When asked by the mayor if they were having fun, they grimaced.
One of the group, Cornet Harry Thomas, of the Household Cavalry, said it was easy to be cynical about the mayor's visit after reports emerged of squalid conditions at the warehouse earlier this week.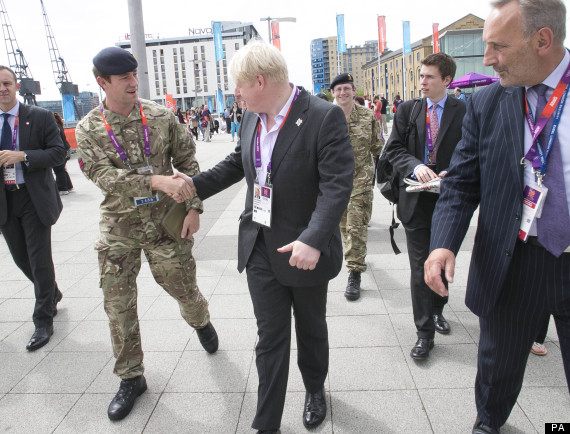 Boris Johnson is greeted by a member of the armed forces
Cornet Thomas said his unit was only on standby and so spent most of their time waiting to be called into action. But in their downtime, they could not get Olympics tickets and so did little much of the time.
He explained: "It's unfortunate because we're a back-up force, because we're not assigned to a venue a lot of our boys haven't been able to get in and see any of the Games.
"It is a shame. I understand the difficulty but I think potentially there is some scope for excess tickets, particularly if there are spare seats around the stadiums. Soldiers have also complained about a lack of tickets for the Olympics
"Some of the guys tried to get in the venues a few days ago and had varying success. Part of the problem is that there doesn't seem to be a universal policy. It seems to be sort of try your luck - if you get in, you get in and if you don't, you don't.
"It's quite a frustrating task because you are here waiting to go.
"The ticket thing is a real shame. There's no reason why the boys can't go. During the day we're only on two hours' notice to move which effectively means you can go anywhere in London, which would be a great opportunity for a lot of the younger soldiers to go and see events. They haven't had the opportunity to do that and personally at my level I can't see why they can't do that. It could be better managed.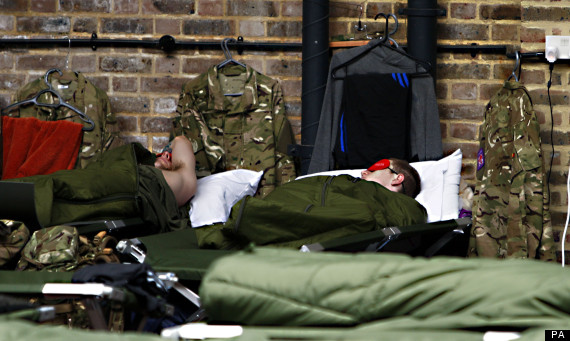 Soldiers sleep packed together in communal rooms
"I heard about Boris's visit yesterday, it's easy to be cynical about it.
"The problem is, this clashes with leave. A lot of the boys had plans for when they were on leave. I don't think it (the tickets) would make up for it (missing plans on leave) but I think what it would do is it would give them (the soldiers) a bit of focus in their downtime and something to do."
Two soldiers, who work in the kitchen, said they were now stationed outside the main warehouse after the fire service saw the original indoor cooking area and deemed it unsafe. They now work outside under heavy army-green tents, serving half a ton of sausages for breakfast every morning and pie and chips for lunch, among other meals. Johnson took the opportunity to thank troops for their hard work
One of them, who did not give his name, remained positive.
"What can you do really?" he said. "People can complain all they want but we feed 2,000 people here every day, some of them with three or four meals a day. They can't complain really."
Mr Johnson said of his visit: "It's been a chance for me to thank them and congratulate them and listen to what they have got to say - some of them want more free tickets - that's difficult to organise with a snap of the fingers.
"I think there will always be some people who are positive and some people who are less positive but the reaction I'm getting is that they are enjoying a very unusual and memorable operation, something they will keep with them for the rest of their lives."
Following a pledge from the mayor, all military personnel travelling in London for the duration of the Games and Paralympic Games, whether in uniform or not, have been granted free travel on all services operated by Transport for London, including the Tube and buses. The concession will last until 11 September.