We've had London 2012 gold post boxes, stamps and now an animal charity has named 16 of its dogs and cats after Britain's Olympic gold medallists.
There's Andy Murray - an adorable eight-month-old Jack Russell cross named after our tennis champ, Staffordshire Bull Terriers Mo (Farah), Jessica (Ennis) and Ben (Ainslie) after the athletics and sailing winners and golden retriever Rutherford, so-named after long-jumper Greg.
Claire Porteous, operations manager at Battersea Dogs and Cats Home, said: "The last three days have seen amazing success for Team GB and we're immensely proud of our athletes.
Scroll down for a gallery of prospective pets going for gold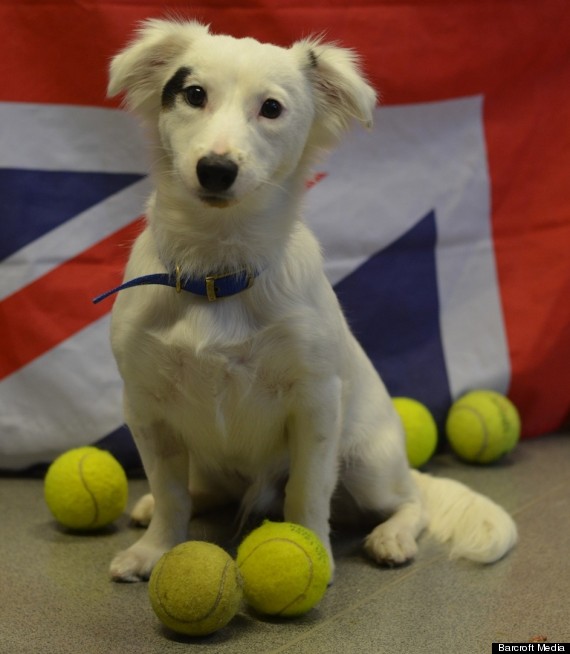 Andy Murray - a Jack Russell cross - poses by a clutch of tennis balls
"Naming some of our dogs and cats after these sporting heroes is our way of celebrating their achievements and we hope our famously-named animals will be given extra attention from visitors to the centre.
"Here at Battersea everyone is right behind Team GB and we hope that naming some of our animals after the team will help spur them on to win even more medals."
The dogs and cats were handed to Battersea Dogs Home after suffering neglect or being found roaming the streets as a stray.
But they are all hoping that their illustrious namesakes success will rub off on them and net them a new owner.
SEE ALSO:
Rehoming and Welfare Team Leader Laura Weekley explains: "Murray is the perfect name for this pup. Like Andy, he is very intelligent and clearly has his eyes on the prize, as he wants to bag a new home."
The full list of Olympic dogs includes Staffies Mo (10,000m winner Mo Farah), Jessica (heptathlete Jessica Ennis) and Ben (sailor Ben Ainslie), Katherine and Anna (rowers Katherine Grainger and Anna Watkins), a litter of black and white kittens named Drew, Tommy, Pete and Alex (after gold medal winning men's Coxless Four Andrew Triggs Hodge, Tom James, Pete Reed and Alex Gregory), Tabby and Tortoiseshell cats Sophie and Kat (named for golden Team GB rowers Sophie Hosking and Katherine Copeland), and kitten Pegs (cyclists Geraint Thomas, Ed Clancy, Pete Kennaugh and Steven Burke).
Helen, Heather and Wiggins are a trio of Battersea dogs named for Coxless Pair gold medallists Helen Glover and Heather Stanning, and cyclist Bradley Wiggins.
And Staffie Vicky (cyclist Victoria Pendleton), as well as JoJo, Laura and Siberian Husky Dani (cyclists Joanna Rowsell, Laura Trott and Dani King), Peter the cat (Peter Wilson, shooting), felines Stott and Baillie (canoeists Etienne Stott and Tim Baillie) and West Highland White Chris and Staffies Jason and Philip (cyclists Sir Chris Hoy, Jason Kenny and Philip Hindes) complete the star-studded line-up.
The dogs home has successfully helped rehome 3.1million animals since it was founded in 1860.
Battersea's Olympic Medalists