Syria's prime minister has reportedly defected to Jordan with his family after being smuggled across the border, government officials there said on Monday.
The announcement came moment after Syrian state television said Riyad Hijab, appointed only two months ago, had been sacked by the government.
The circumstances surrounding his departure are unclear, with activists saying the former agriculture minister had fled the country.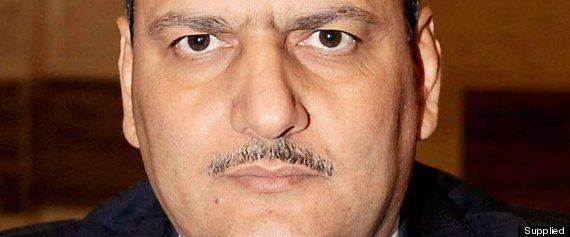 Syria's prime minister Riyad Hijab has apparently defected
President Bashar al-Assad appointed Hijab on June 23, following a parliamentary election in May.
Syrian National Council member Khalid Zein al-Abedin told AFP: "Hijab, members of his family, two ministers and three army officers crossed the border into Jordan on Sunday night following coordination between the Syrian opposition and the (rebel) Free Syrian Army.
In a statement posted on Al Jazeera, Hijab said: "I announce today my defection from the killing and terrorist regime and I announce that I have joined the ranks of the freedom and dignity revolution.
"I announce that I am from today a soldier in this blessed revolution. The country is living under the brunt of genocide and barbarian brutal killing."
Muhammad el-Etri, a spokesman for Hijab, said he was with 10 family members, in a defection that had been planned "for months."
El-Etri said: "Today a high ranking official like the prime minister has defected ... and now you who are of a lower rank have no excuse to remain loyal to the regime.
"The prime minister who was under tight security and scrutiny has defected. and any other official now has no excuse not to defect.
"Today the regime will react haphazardly in a hysterical manner. It will perpetrate more killings ... any official willing to defect must act wisely, he must take care of himself and his family.
"The regime speaks only one language: the language of blood."
Hijab is the first cabinet minister to defect but thirty army generals have fled to Turkey since fighting began.
Syria's first astronaut, Mohammed Ahmad Faris has also declared his solidarity with the rebels.
Christian Science Monitor said he had joined the Free Syria Army in Aleppo but was now in Turkey, and is planning to hold a news conference in Istanbul.
A former air force pilot, Faris was part of a Soviet space mission in 1987. Rebels claim these captured Iranians in this video were on a "reconnaissance mission" in the capital Damascus at the time they were abducted
On Sunday, rebels captured 48 Iranians who they claimed were members of the country's elite Revolutionary Guard - in a move which threatened to drag Iran deeper into the Syrian crisis.
President Mahmoud Ahmadinejad of Iran has given his country's full backing to Assad, but has stressed their are no Iranian forces aiding Assad.
Iranian television Al Alam said the 48 hostages were religious pilgrims heading to a Shiite shrine outside Damascus. Syrian security forces inspect the scene after a bomb ripped through the third floor of the state TV building in Damascus
Earlier on Monday a bomb blast reportedly hit a Syrian TV and radio building in Damascus.
State news agency Sana said an explosive device had targeted the building of the General Organization of the Radio and Television, but said there were only minor injuries.
Information Minister Omran al-Zoubi said he blamed Qatar, Saudi Arabia and Israel for the attack, and accused them of supporting the insurgency.