Does it seem wrong to you?
The ever-popular, ever-youthful appeal of TV duo Ant and Dec at the helm of the country's most popular shows has brought the jaunty pair millions of pounds (a current £20 million deal with ITV), properties in leafy West London and a fleet of shiny cars.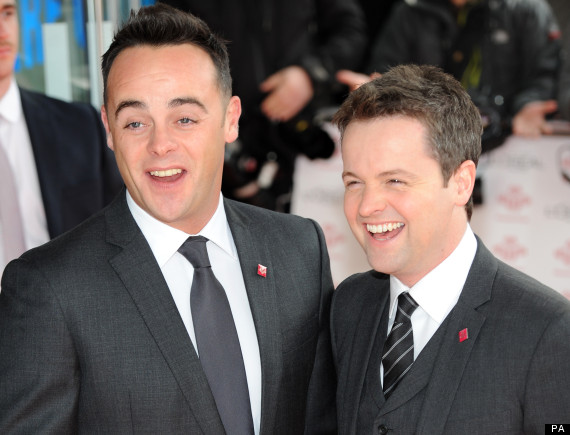 Ant and Dec have built a fortune out of their cheeky-chappy appeal
Their most recent show, Simon Cowell's latest brainstorm Red or Black, pays them each a reported £750,000, to preside over a rotating roulette wheel luring contestants with the chance to win a million.
But this show has also got them into hot water and sparked a Twitter backlash, with news that its second series is to be sponsored by Wonga - who happen to be a financial loan company.
Wonga.com, whose catchphrase is "straight-talking money", was criticised by the trading watchdog in May for using aggressive and misleading debt collection methods.
The duo's rep has been quick to point out that Ant and Dec only present the show, and have no say in the choice of sponsor. But Labour MP Stella Creasy has led the charge against them, saying: "They could show some leadership and say this is nothing to do with us and we aren't happy about it." Read more here...
And Wonga can't deny they are hope to make profits off the back of the fresh-faced appeal of these two. Why, otherwise, would they be ploughing so much cash into sponsoring the show and making sure their logo appears all over it?
But it does seem an innocuous pairing - a company whose interest rates, with a typical APR of 4,214%, would seem to make it incredibly difficult for the less affluent of its customers to ever get back on track - and a pair of shiny-as-a-button, boot-polished millionaires who probably don't have quite the same financial concerns as the majority of Wonga's customers.
The recent Twitter backlash has proved how badly this has gone down, in this time of austerity. Simon Cowell may know what his nation really wants when it comes to a dancing dog, but this latest trick is a rare false move for him, out of step with the zeitgeist.
Ever since the days captured so brilliantly by Mad Men, big brains have been put to use marrying up brands with famous personalities, hoping at the very least for mutual benefit (does Italian coffee make George Clooney sophisticated, or does he make it sexy? Discuss...) and hoping always for that holy grail, of the sum being bigger than the parts and everyone emerging a winner... nobody involved will regret the day someone thought of putting Nick Kamen in a pair of 501 jeans, and taking him out of them, in a launderette.
Sometimes, however, it doesn't work out quite so well.... here are 10 of the more unfortunate celebrity/product pairings...
Unfortunate Celebrity Endorsements