A ginger tomcat called Spongebob, who once tipped the scales at a whopping 33lbs, has died.
The nine-year-old moggy had only recently been rehomed via New York City's rescue centre Animal Haven. Newlyweds Courtney and Matt Farrell became enamoured with the enormous feline after spotting him at a benefit gala to raise money for the centre in July.
He was given a clean bill of health by vets at the time of his adoption, after which his health was monitored during regular vet visits.
Spongebob's mammoth physique was the result of over-feeding by his previous owner and less than a week ago his new family proudly revealed they had managed to slim him down to 26lbs.
Scroll down for more pictures of Spongebob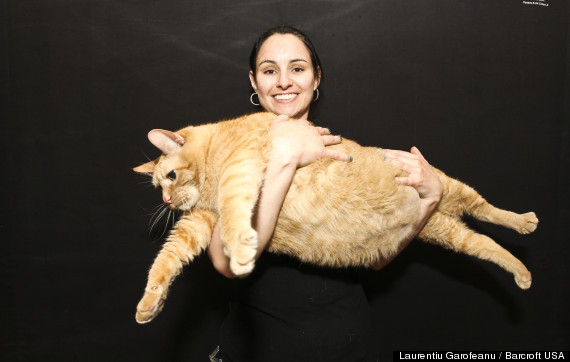 Much-loved: Spongebob and Kendra Mara, Associate Director at Animal Haven
But illness suddenly took hold of Spongebob, and while his weight was not the cause of his poor health, his size did make it too dangerous to operate.
About two weeks before slipping away on August 3, Spongebob developed coughing fits attributed to asthma.
Vets tried antibiotics and an inhaler, but his breathing problems worsened and an X-ray revealed a growth surrounding and putting pressure on his heart.
Sadly, because of his weight Bob was in danger of dying on the operating table from the anaesthesia.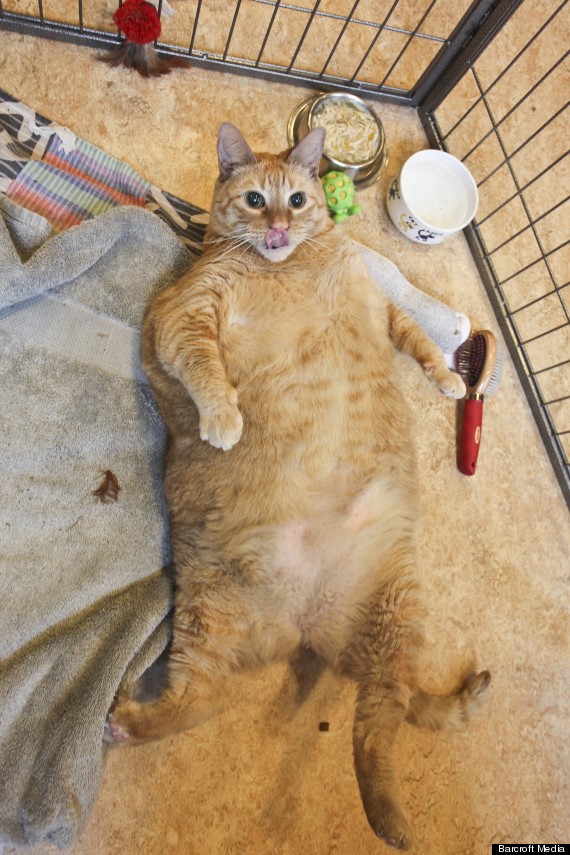 Spongebob's immense size was down to overfeeding - but his new owners were managing to slim him down
Matt and Courtney made the decision to let Bob go and remained with him as he passed, giving him love to the end.
Writing on a blog dedicated to Spongebob, Courtney said: "This has been one of the hardest things I have ever experienced, and certainly the most difficult thing Matt and I have had to endure as a couple.
SEE ALSO:
"I'm sure it's evident to all of you that we treated 'Sponge' like he was our first baby.
"We loved this cat so tremendously and had so many plans for him as part of our family.
"As profoundly sad as we are, we can only try to focus on how much love we were able to give him during his last couple of months.
"We gave him a family, we gave him room to run around, and we showered him with love all the way to the end."