Where have these super women been hiding?
From the heart-stopping determination and rock-hard abs of heptathlete Jessica Ennis, to the grit of boxer Nicola Adams, the elegance of dressage champion Charlotte Dujardian, and the unbridled joy of rower Katherine Grainger winning her first gold after three previous silvers, it's been the female Olympic athletes who are inspiring the next generation.
The success of Team GB's female athletes has already sparked internet memes, with the new female empowerment battle-cry "strong is the new skinny". Jessica Ennis has become an inspiration to young girls
Lord Coe has paid tribute to the women of Team GB for providing some of the most memorable moments of the Games. "I think that having 1948 with Fanny Blankers-Koen here really moved that argument and the presence of women in the Games.
"If you look at this morning's media they are focusing on women."
While some women have shied away from describing themselves as role models, Adams, the first female boxer to win a gold medal in Games history, knows that has to be her job.
"I definitely want to inspire girls to follow their dreams and not be bothered by what people say. That's what we need - more females being role models in sport," she said.
A campaign has been launched to focus more media attention on women's sporting achievements, as a legacy from the 2012 Games.
FitFarms posted a picture on Facebook, shared more than 82,000, and liked by more than 60,000 people, which calls for more focus on athletes like Ennis and less on Jordan, Jodie Marsh, and Big Brother contestants.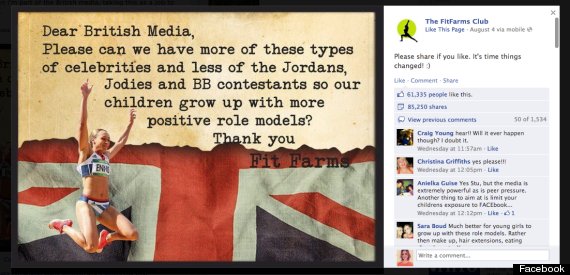 The campaign to get more coverage of women's sport
And a Facebook page, "Strong Is The New Skinny" has more than 62,000 likes - and t-shirts can be bought with the slogan.
Team GB women have won 11 gold medals between them, with cyclist Laura Trott and Dujardin both winning two a-piece. The achievements come just a few months after BBC's Sports Personality of the Year was criticised for having no women nominees.
The popularity of the Olympics has led to more people than ever turning out to watch women's football, hockey and volleyball.
A record-breaking crowd at Wembley of 70,584 saw Team GB beat Brazil 1-0. Winger Karen Carney described the night as "My dream came true when I walked out in front of 70,000 at Wembley - I think that is every young boy's dream, let alone a girl's dream, to do that." Cyclist Victoria Pendleton shows off her medals
The women's achievements have given the Olympics some its most breath-taking and emotional moments.
Cyclist Victoria Pendleton, disqualified at the team sprint, powered to gold in the keirin before retired from the sport.
She followed Lizzie Armitstead, who won the country's first medal, a silver, in the women's road race.
And judoka Gibbons paid a heart-wrenching tribute to her late mother as she went into the final of the tournament.
And it is not just British women who have been making the headlines. London 2012 is the first Olympics where every nation has fielded male and female representatives, and the only one in which women will compete in every sport.
Lord Coe praised the participation of Sarah Attar who became one of the first women to represent Saudi Arabia at the Olympics when she ran in the 800 metres.
Her appearance followed months of talks, with Saudi Olympic chiefs at one point insisting no women would be allowed to take part.
Lord Coe said she had "really moved this agenda on in London". Sarah Attar became one of the first women to represent Saudi Arabia
IOC spokesman Mark Adams said Islamic countries would face pressure from their own up-and-coming athletes to compete at the next Olympics in Brazil.
"The sporting performance and the fact that women athletes at the same level are providing role models around the world means there will be a pressure that bubbles up from below," he said.
At the Barcelona Games in 1992 some 26 countries did not include women in their teams, while all 204 competing nations have women at London 2012.
Mr Adams said: "If you take, for example, 1984, only 24% of athletes were women.
"This Games, our provisional figure is that this is just over 44%. So we are nearly at gender equality, which is really good going."
But he added: "Just getting all the NOCs (National Olympic Committees) to send athletes is great, symbolic and an important symbol, but that is not enough.
"We continue to push the NOCs and work with the NOCs to provide sporting facilities for women, which is challenging in some countries. So we will continue to work on that too." Gemma Gibbons of Great Britain reacts after winning her match against Audrey Tcheumeo of France during the women's 78-kg judo competition
But women's success in areas like boxing and judo has been controversial for some commentators.
A Turkish newspaper columnist was criticised after writing that he believed the Olympics are destroying the female figure in a piece "Womanhood is dying at the Olympics"
Sabah newspaper's Yuksel Aytug said the Games was "distorting women's bodies" and that extra points should be given to female athletes based on how feminine they were.
And the Telegraph's Andrew Brown said it was "disturbing" to watch Team GB's Gemma Gibbons win the judo gold medal, and it was distasteful to watch women fight. "I couldn't help wondering about their soft limbs battered black and blue with bruises.
"Would it bother me to see one of my own daughters savagely attacking another woman on a judo mat for people's entertainment? I'm really not sure."
Some women faced abuse before the Games began for their appearance, including Team GB's weightlifter 18-year-old Zoe Smith.
But she smashed a British record by lifting twice her body weight during the 58kg Weightlifting event at London 2012, saying later: 'Most of the people that do think like this seem to be chauvinistic, pig-headed blokes who feel emasculated by the fact that we are stronger than them. Simple as that."