Funding for Olympic sports has been guaranteed until the 2016 Games in Rio de Janeiro, David Cameron has announced.
UK Sport will receive £125m annually for the next four years to maintain funding at same level as the run-up to London.
The move is "to reward the success of the UK's outstanding elite sport system" following the British team's record-breaking medal success at the London Olympics.
The Prime Minister said: "The motto of these Games has been 'inspire a generation'. Nothing has been more inspirational than seeing our elite athletes win gold this summer.
"There's a direct link between elite success and participation in sport. I want one of the legacies of these Games to be our athletes triumphing in Rio in 2016, and in future Olympic Games. Guaranteeing this funding will help ensure that happens."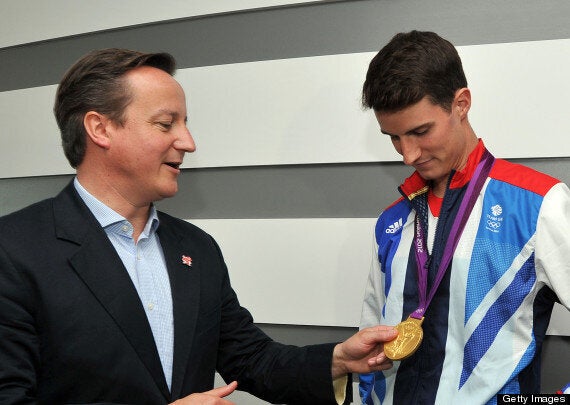 David Cameron meets gold medallist Peter Robert Russell
The larger chunk of the money comes from the National Lottery but Exchequer funding makes up £40m a year. Until now, UK Sport, the body that distributes cash to Olympic and Paralympic sports as well as providing a number of specialist services, had only been guaranteed funding up until 2014.
A Downing Street statement said: "As an exception, Exchequer funding is now being committed to 2016/17, to give athletes financial certainty in the crucial final two years in the run up to Rio 2016."
Funded British athletes will be asked to offer up to five days a year of their time, free of charge, to take part in campaigns to encourage sport in schools.
Speaking on BBC News on Sunday morning he said: "I can't think of any reason why any government would change this strategy - it works. It delivered for 2012 and it will deliver for 2016."
The prime minister also announced Sebastian Coe as Legacy Ambassador for the games, to oversee decisions surrounding the future of sport in the UK.
"Seb Coe has done a brilliant job delivering the best Games ever," he said. "Now I want him to help me deliver the best Olympic legacy ever."
UK Sport chair Baroness Sue Campbell said: "What has been achieved in London is momentous. We have put the UK on the map as a high performance nation with the talent to compete with the best nations of the world.
"What was once unthinkable has been achieved resoundingly. The Government's announcement to maintain funding in our high performance system demonstrates vision and commitment to sustain this level of high performance beyond London onto Rio and beyond - a true legacy of the Games."
Cycling's Sir Chris Hoy, who has won six Olympic golds, added: "I am old enough to remember a time when things were run on a shoestring budget before National Lottery and Government investment transformed British Olympic sport. Having these guarantees for the future will be a huge boost for all the athletes aiming to win medals at Rio 2016 and proves we are serious about building a strong legacy from London 2012."
Jessica Ennis, who won gold in the heptathlon, said funding had helped her during her career, while the sports medicine services had helped her recover from a foot injury before the Beijing Games in 2008.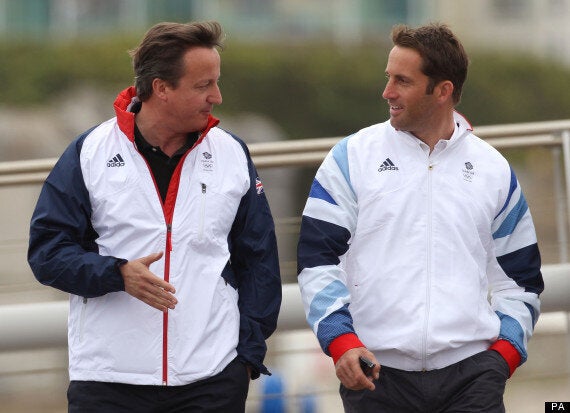 David Cameron and Olympic sailing champion Ben Ainslie
Ben Ainslie, the four-times Olympic sailing champion, said: "I was at Atlanta in 1996 when GB finished 36th in medal table so to see where we are now in third place at London 2012 demonstrates just how successful this strategic investment has been."
Labour leader Ed Miliband said the Government needed to go further to ensure it does not squander the legacy left by the Olympics.
He said the Games had inspired the country in ways "which you can't put a price on" and urged all political parties to join together to form a 10-year plan that focuses on sport at a grass-roots level.
He agreed that investment was needed in Britain's elite sports, but said sport in the nation's primary schools and communities was also important.
He told BBC Breakfast: "My proposal to David Cameron has been let's get a 10-year plan involving all parties but also involving all our sports people and all governing bodies to work out how we do that."
When asked about Government plans to make competitive team sports compulsory for all primary age children, Mr Miliband said more comprehensive action was needed.
"We need something much bolder, much more comprehensive and much more thorough than simply one announcement about primary schools," he said.
The Labour leader added that he would make it a requirement that primary school children take part in at least two hours of competitive sports per week.
"Competition is important but the idea we don't have it - I don't recognise that," he added. "We need to unite our country, work with our teachers and work with our schools."