Police have released images of an astonishing 80 motorists who slowed down to photograph emergency crews as they tried to free a young women from a "horrific" car wreck on the opposite carriageway.
The 21-year-old female lorry driver had been trapped in her vehicle for four-and-a-half hours as workers desperately tried to free her.
As the rescue attempts continued, officers noticed drivers on the other side of the M1 in Northamptonshire were leaning out of their vehicles to snap and film the scenes on their mobile phones.
Scroll down for a gallery of shame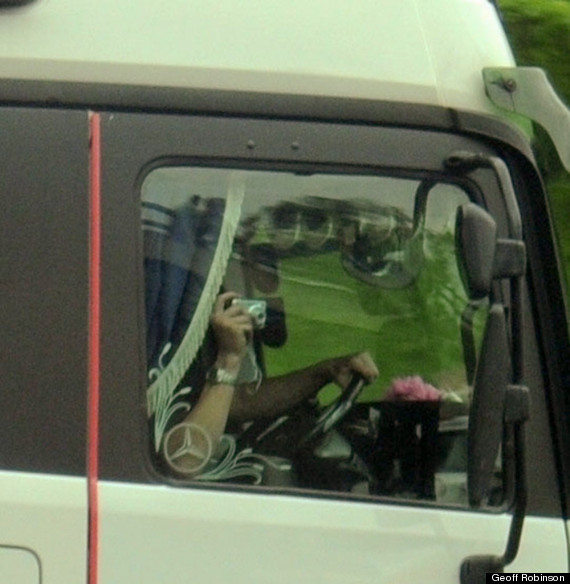 Rubbernecking: One of the motorists filmed at the scene of the crash
They set up a camera and caught 80 drivers in the act, following the crash at 6.20am on June 14.
It is believed to be the first time in the country a force has carried out such an operation and officers have now written to the owners of all the vehicles to explain the people driving at the time were committing an offence.
"After completing our investigations at the scene of the collision, we were astonished to see so many motorists using their mobile phones to capture an image of what was a horrific collision," said Sergeant Nick Gray, from the Collision Investigation Unit.
"Because of how badly the driver was trapped, we had a period of four hours before we could continue with our work and after witnessing the number of people using mobile phones decided to use a camera to film motorists travelling on the opposite carriageway.
"During those four hours we filmed 80 motorists using their phones to capture images of the collision."
He said in a number of cases the motorist was using a company vehicle and the employers.
"The employers have contacted us requesting more information so they can take internal disciplinary action," he added.
He said the force had taken the decision not to prosecute the motorists in a bid to educate them about the consequences of using a mobile phone while behind the wheel.
"Using your mobile phone while driving can and does lead to serious injury, and sometimes fatal, road traffic collisions," he said.
"The drivers photographed showed a total disregard for the law and the devastation which would be caused to their own or another family in a fatal road traffic collision.
"Many of the drivers photographed would class themselves as 'professional drivers'.
"I am astounded that people not only use their mobile phones to talk on while driving, but would also use them to take pictures, especially at the scene of such a serious road traffic collision.
"It is every motorists responsibility to make sure they follow the law and no phone call, picture or text message is important than risking your own, or other road users lives."