Kim Jong-un looked relaxed and happy during a visit to military units on an island southwest of the country's capital, Pyongyang.
However in a PR disaster for the Supreme Leader, the North Korean family chosen to pose with him looked absolutely petrified.
One member of the alarmed-looking group looks close to tears, while another hunches over fearfully.
The North Korean leader Kim described the unit as a "heroic defender," during the visit according to the state news agency KCNA .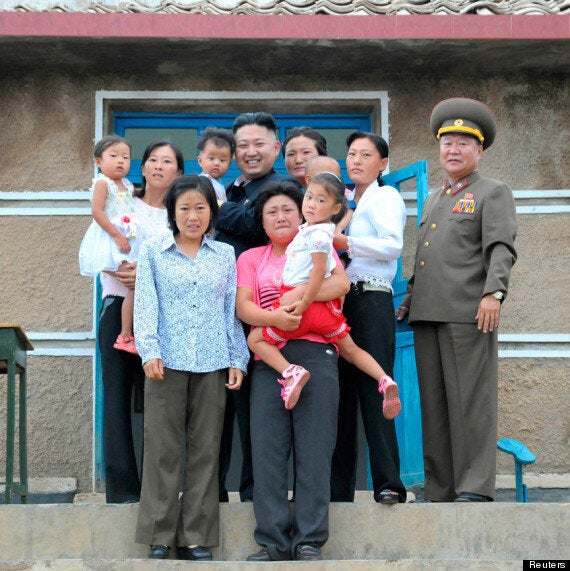 Kim Jong AARRGGH: The family's expressions are strangely mismatched with the leader's happy smile
Their reaction to the leader may be revealing, after many suggested Kim Jong-un might be embarking on a more relaxed style of leadership compared to his late father Kim Jong-il.
A number of photos released recently by state news agency KCNA show the North Korean leader laughing at a theme park with his wife, Ri Sol-Ju, who has been pictured dressed in Western clothes and with a modern hairstyle. Kim Jong-un looked relaxed and happy whilst enjoying one ride
British diplomat Barnaby Jones (centre, bottom row) enjoys the ride with Kim Jong-Un and his entourage
Her western hairstyle and dress were first noticed when she was seen pictured next to Mr Kim at the 18th anniversary of the death of North Korea founder Kim Il Sung, the new leader's grandfather.
North Korea's aggressive nuclear arms programme and long-running animosity with the West means American characters such as Minnie Mouse, Tigger and Dumbo are hugely unlikely presences in the communist nation.
After the latest photo was published, one Reddit user took it upon himself to 'adjust' the picture, photoshopping Kim Jong-un's smile onto every member of the family. However it perhaps looks even more terrifying.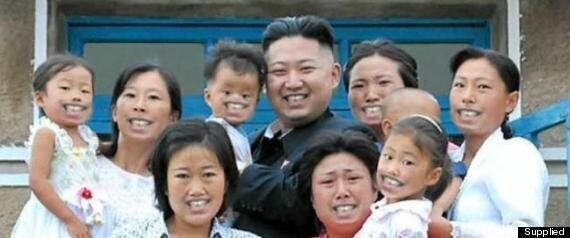 Related