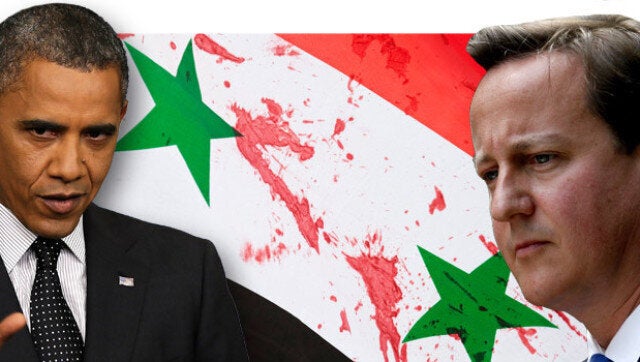 David Cameron and Barack Obama have said any threat to deploy chemical weapons by the Syrian regime would be "completely unacceptable".
According to Downing Street, the two leaders, who spoke on Wednesday evening, agreed that any recourse to chemical weapons by Syrian leader Bashar al-Assad, would force them to "revisit their approach" to the crisis.
The two leaders said there was "much more to do" to stop the brutal killing of civilians in the Middle East state.
SCROLL DOWN FOR LIVE UPDATES
Earlier this week President Obama warned that any movement of Syria's stockpile of chemical weapons would be a "red line" which would have "enormous consequences".
Cameron also discussed the situation with French President Francois Hollande and the two European nations agreed to "work more closely to identify how they could bolster the opposition and help a potential transitional Syrian government after the inevitable fall of Assad".
Downing Street said Cameron and President Obama "both agreed that the use - or threat - of chemical weapons was completely unacceptable and would force them to revisit their approach so far".
A spokeswoman added: "The Prime Minister restated the risk to the wider region posed by the fighting and the fact that regional and international cooperation was vital.
"He reinforced the need to work in close cooperation with Turkey, Qatar, Saudi Arabia and others on the issue." Cameron also spoke to French President Francois Hollande (pictured) about the Syrian crisis
They also "firmly agreed that there was much more to do in order to stop the brutal killing of civilians and help put Syria on a path towards peace and stability".
They discussed how to build on the support both nations had offered to the opposition in Syria "to end the appalling violence and bring about stability".
The leaders said they hoped a meeting of opposition groups in Cairo would show "real unity of purpose and coherence in working towards transition".
Cameron and Obama agreed that more should be done by the international community to channel humanitarian aid to Syrian refugees through the UN appeal.
Cameron and Hollande discussed the need to maintain international pressure on the Assad regime.
They agreed that the refugee situation was "deeply troubling" and Hollande said that the humanitarian crisis would be the focus of France's United Nations Security Council ministerial meeting at the end of the month.
The pair welcomed the appointment of Lakhdar Brahimi as the new UN envoy and hoped that he would carry on the work of Kofi Annan in "seeking a credible political solution - as well as holding the regime to account for any further atrocities".