A 60-year-old man living as an Apace Indian has won a court battle for the right to keep badger paws and eagle wings in his semi-detached home in Swansea.
Father-of-six Mangas Colaradas was due to stand trial on Thursday for keeping body parts of protected wild animal in his home, which is filled with the trappings of his Native American lifestyle.
But Mangas, who vowed to fight the case on the grounds it is an integral part of his life as an Apache, was overjoyed when the charges were dropped by the Crown Prosecution Service before he gave evidence.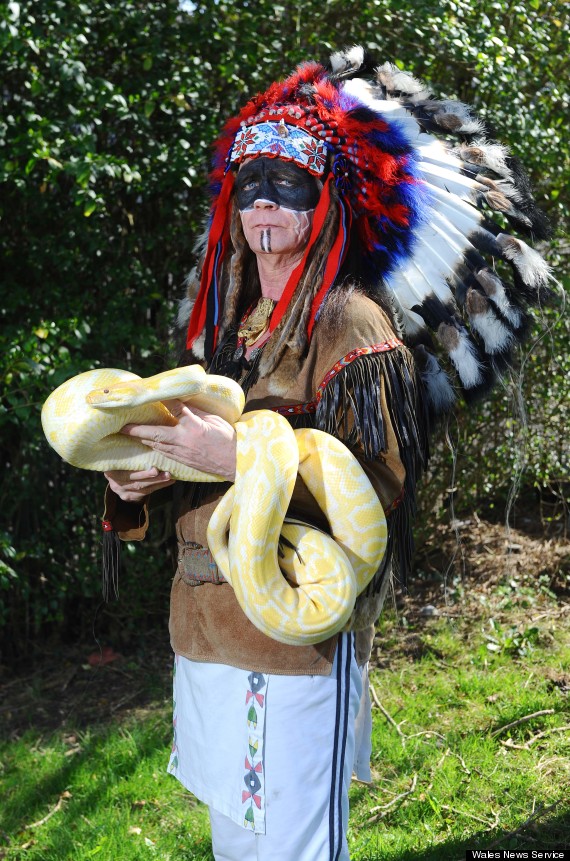 Mangas Colaradas (pictured with his python 'Big Yella'), will not stand trial for keeping the badger and eagle parts in his home
Mangas - born in Wales more than 6,000 miles from the plains of the Apache tribe - said: "I'm pleased they dropped it, it shouldn't have come to anything in the first place.
"Common sense should have come into it far sooner but they just don't understand my native way of life.
"It's been a big waste of money and a dreadful thing to have hanging over me. But I was always confident I would clear my name."
Mangas actually refuses to reveal his original name and only answers only to his adopted name in honour of a famous Apache chief.
He was charged under the Protection of Badgers Act and the Wildlife and Countryside Act over the badger and eagle relics.
He had previously appeared in court wearing a ceremonial head dress, tassled jacket, suede moccasins and a snake's head necklace to deny the charge at Swansea magistrates court.
At the time Anne Griffiths, defending, said: "My client Mangas is part of a native American Apache tribe.
"He has spent time living in these Apache communities and this is his belief."
The case was thrown out after his defence team provided expert evidence from an animal specialist.
Mangas said: "Animals come first to me, there was nothing cruel about it, I would never hurt or kill an animal.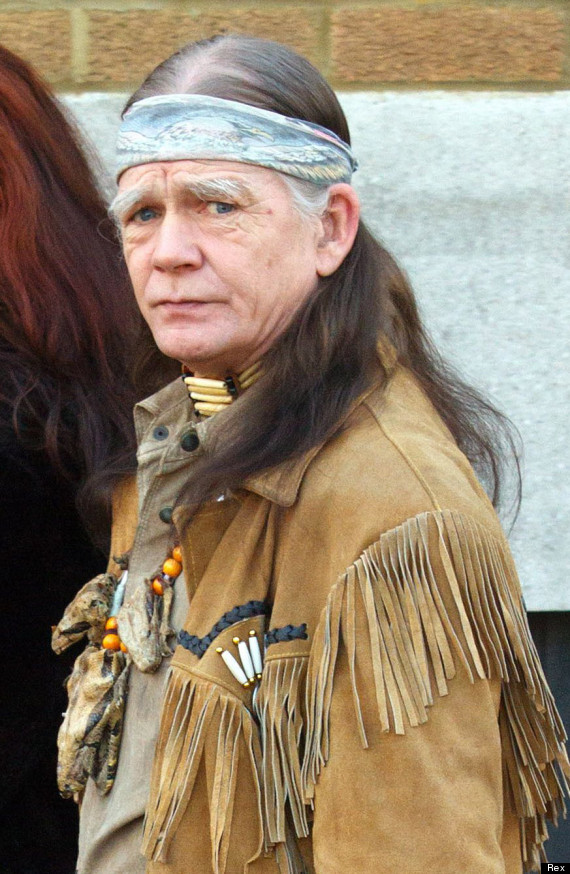 Mangas pictured outside Swansea Court in December
"But as a native, when I find a dead animal I will eat it or I will use its body parts. "
Mangas began living a Native American lifestyle after he divorced from his wife in the early 1990s.
In 1997 he travelled to the United States to try and live on a Red Indian reservation but the American government would not let him.
He then moved to Spain in 2000 where he lived in a teepee in the mountains and the forest around Torremolinos.
He brought the badger paws and eagle wings back with him from Spain planning to turn them into a headdress.
But he was arrested before he was able to do this when police found his collection at home in the Townhill suburb of Swansea.
Now the case is over they will return the items to him but have told him he will have to apply for a licence if he wants to turn them into clothing.
He added: "I don't mind I've got plenty of other things I can use to make my jewellery.
"I dress like this all the time I'm not just some weekend Indian. I don't put it on to show off, I put it on because I want to wear it.
"I'm against modern life, nobody cares about anybody else, nobody cares about mother earth.
"The whole point of the Native American lifestyle is that everyone believes in mother earth and treats others who you want to be treated."
Mangas is currently working in Portsmouth where he is doing snake shows on the seafront for the summer season.
The animal lover added: "I've cured thousands of people of their fear of snakes, I don't believe in money, I just do it to educate people.
"I get on with animals better than most people I've got an affinity with them there are no bad animals just bad keepers.
"I've owned hundreds of snakes in my time, I eat them when they die, we Natives don't believe in letting anything go to waste."
Jackie Lis, Senior Crown Prosecutor for the Crown Prosecution Service in Wales, confirmed charges were dropped against Mangas.
She said: "For a prosecution to take place, there must be sufficient evidence to suggest a realistic prospect of conviction.
"A prosecution must also be deemed to be in the public interest.
"Having considered expert evidence from a number of sources, we concluded in that there was no longer a realistic prospect of conviction in relation to the charges against Mr Colaradas.
"This is because some of the expert opinion on how the owl and badger parts came to be in Mr Colaradas' possession was contradictory.
"There was also a lack of consensus as to when the animal and bird parts may have been obtained."