The annual Foster's Edinburgh Comedy Awards rewarded physical comedy this year, with clown Doctor Brown winning the big prize - Best Comedy Show - and "mime with noise" comedian The Boy With Tape On His Face receiving the Panel Prize. Norwegian stand-up Daniel Simonsen was named Best Newcomer.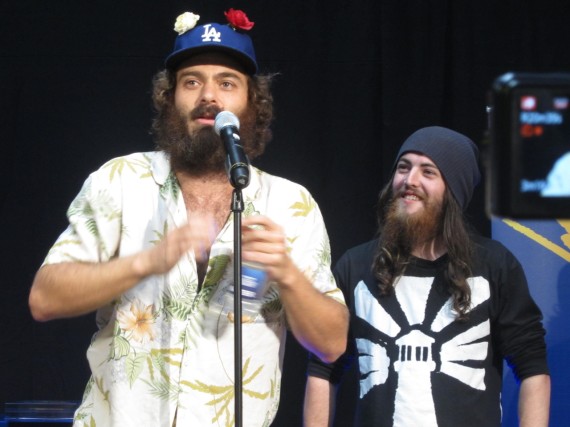 Foster's Comedy Award winner 2012 Doctor Brown (and his friend Ben)
Doctor Brown - aka American comedian Philip Burgers - thanked his "lovers and friends" and most notably, his friend Ben (pictured above), who took to the stage with him to collect his award.
Brown's show Befrdfgth beat a diverse and strong field - Claudia O'Doherty, James Acaster, Josie Long, Tony Law and favourites Pappy's - to take home the £10,000 prize, and he thanked fellow nominees and other comedy performers in his speech. "Bless you," he said. "Keep going. Keep being totally mad and silly."
Praising this year's winner, Nica Burns, the awards' producer, said: "Doctor Brown's show starts with fun pranks and then takes the audience on a roller coaster from inspired lunacy to pulling your heart string. He can express emotion with a gesture, a look or an eyebrow. A breathtakingly brilliant clown with enormous charisma in a fantastic show."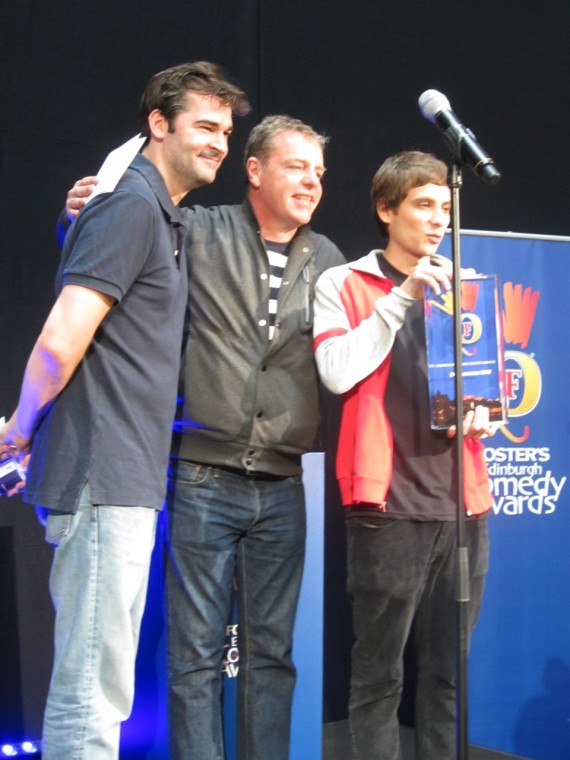 Daniel Simonsen with presenters Suggs and last year's Best Comedy Show winner, Adam Riches
Best Newcomer winner Daniel Simonsen relocated from Norway to London to pursue his dream of being a stand-up - and dedicated his £5,000 award to the therapist who helped him, saying: "Thanks, man - you saved my life."
Simonson beat off fierce competition from David Trent, Ben Target, Joe Lycett and Sam Fletcher - and Burns said he "wowed the judges with his dry witty take on the day-to-day battle with life".
The £5,000 Panel Prize, meanwhile, was won by physical comic and mime The Boy With Tape On His Face - the alias of New Zealander Sam Wills - who collected it without his trademark strip of duct tape over his mouth. "People like it better when I don't speak," he said. "So I'll keep this short... This is really cool!"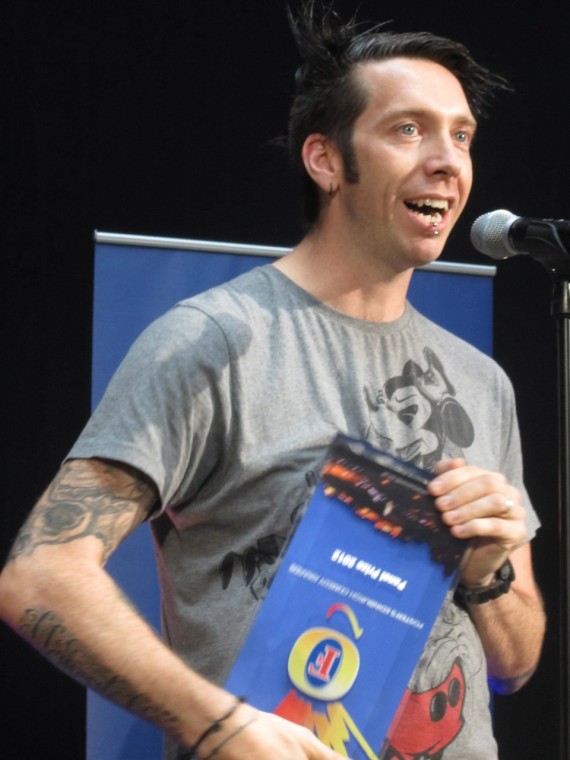 Panel Prize winner The Boy With Tape On His Face - Sam Wills
Wills won the Best Newcomer Award two years ago and has been selling out Fringe venues ever since. "He is an outstanding comedian who proves that punch lines don't need words," said Burns. "His show is packed full of gags – all visual. Sam shows us that silence can be hilarious. He is a star!"