Double Olympic champion Mo Farah has become father to twin girls, he said on Saturday.
The Team GB double Olympic champion runner told Sky News his wife Tania, who was seen cheering him on while heavily pregnant, had given birth.
Farah, who is already stepfather to Tania's daughter Rihanna, dedicated his 5,000m and 10,000m gold medals to the unborn pair after he topped the podium in London.
A very excited Farah, who is in Birmingham for the Aviva Birmingham Grand Prix tomorrow, told the channel he had "great news".
"My wife gave birth to two little beautiful girls. It is very exciting," he said.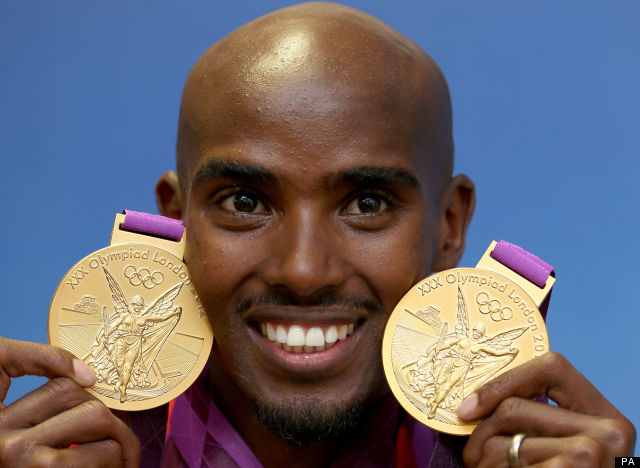 The double Olympic champion now has a child for each gold
But asked whether he would be immediately going to her bedside, he said: "No, no, no, I've got a race tomorrow, haven't I."
ave birth just under two weeks after her husband's second triumph when he won the 5,000m title in a memorable final in Stratford.
Mr Farah said that his wife gave birth in London yesterday and that he had been present.
"My wife has been holding on so long and it's great that she held on this long and didn't give birth on the track (at the Olympics)," he said at a press conference this morning.
Asked to compare fatherhood to wining Olympic gold, he said: "It's completely different. It's out of your control, it was weird, but as a father I'm very proud. To have three kids in the family is going to be exciting."