One of Britain's most prestigious universities has reportedly fallen victim to hackers who say they support WikiLeaks founder Julian Assange.
According to 'NullCrew', Cambridge University was targeted over the weekend. The group claim to have published usernames and passwords of some of the institution's email accounts.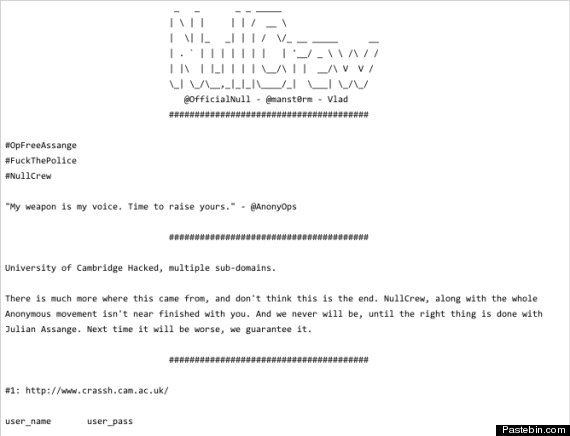 The message which accompanied the published data
The hackers online message included a warning:
"There is much more where this came from, and don't think this is the end. NullCrew, along with the whole Anonymous movement isn't near finished with you. And we never will be, until the right thing is done with Julian Assange. Next time it will be worse, we guarantee it."
According to student paper The Tab, who broke the story, administrator login details for several departments were published, as well as login details of seventeen academics belonging to the Arts, Social Sciences and Humanities research centre.
Undergraduate accounts are not thought to have been affected.
A spokesperson told The Huffington Post UK: "We are aware of the NullCrew claims and investigations are underway. As far as we are currently aware no email system is affected.
"We will be issuing further information when the investigation is complete."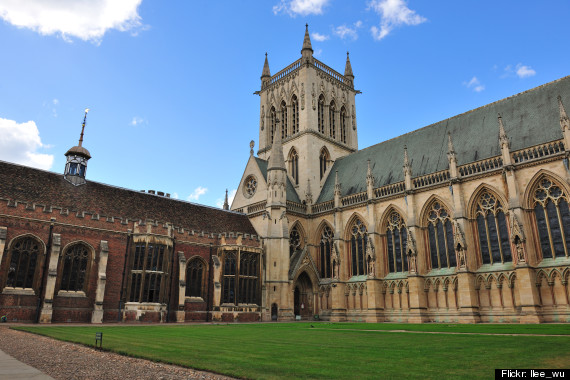 The university, which was recently named a 'superbrand', was allegedly hacked over the weekend
Julian Assange is currently engaged in a legal battle with Britain to prevent his extradition to Sweden, where he is wanted for questioning over rape allegations.
Assange is currently claiming asylum in Ecuador and has been holed up in the country's embassy in London for weeks. He has been told by Ecuadorian officials he can stay in the building for "as long it takes".
The AnonHackNews blog reported the European Space Agency and europa.au had also been hacked at the same time as the university.
In July, the same hacker group targeted Yale University in the US. The group obtained the details of around 1,200 staff and students.
At the time, NullCrew said the hacking was to prove "nothing is secure".
"In fact, the governmental and educational sites are the least secure in the experience we've had with .edu and .gov websites," the group wrote after publishing the data.
"NullCrew claims that the database they've gained access to contains even more sensitive information such as social security numbers, names, addresses and phone numbers, but because their purpose is merely to show that nothing is secure, they've only published usernames, passwords and email addresses."
SEE ALSO:
Ecuador Willing To Discuss Julian Assange Case With Britain, President Says
Cambridge University Accused Of Silencing Protest Over Student Owen Holland's Suspension (VIDEO)