A couple who witnessed the lion rumoured to be roaming the Essex countryside have warned "whatever it was, it's definitely still out there."
The search for the lion was called off on Monday afternoon, with police insisting that the sightings were either of a domestic cat or a wildcat.
However Steve and Gill Atkin, who first photographed the animal in Osyth, are not convinced that the creature was merely a pet cat.
Mrs Atkin told BBC Essex: "The Mirror [newspaper] has made a bit of a farce of it this morning, saying it was a cat called Tom, but no, I don't think it was a domestic cat." Steve and Gill Atkin have warned that the animal is still out there
Two helicopters, 25 officers, an expert from Colchester Zoo and thermal imaging equipment were deployed trace the animal.
Steve Atkin told police he saw what was "a very large animal and possibly a lion" cleaning itself and rolling around in a field for 20 to 30 minutes. They managed to get a picture of the creature on Sunday afternoon.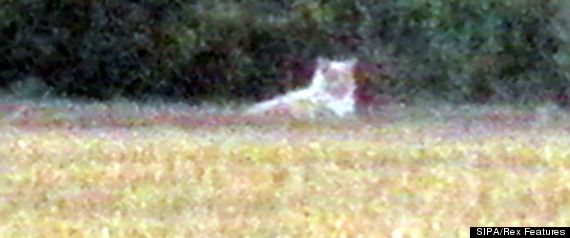 Picture of the 'lion' taken by Stephen and Gill Atkin who saw it in the field
A number of other holiday makers spotted the king of the jungle near Earls Hall Drive in St Osyth.
One man was more vocal about what he saw. Rich Baker, 39, was walking with his two boys, aged nine and 11, later on Sunday evening when what appeared to be a lion peered out from the darkness.
He told the Daily Mail: "A man started running towards us yelling 'It's a f*cking lion!'
"He looked so panicked you knew it was not a joke. The lion you could see it from the side.
"I grabbed my children's hands and we ran towards our caravan. My children started to scream, "daddy, is the lion going to get us?"
"It was one million per cent a lion. It was a tan colour with a big mane, it was fully grown, it was definitely a lion. It was just standing there, it seemed to be enjoying itself.
"There were a dozen or so people who saw it. We are staying on the caravan park down the road. It's very busy – it's a seaside resort and a bank holiday."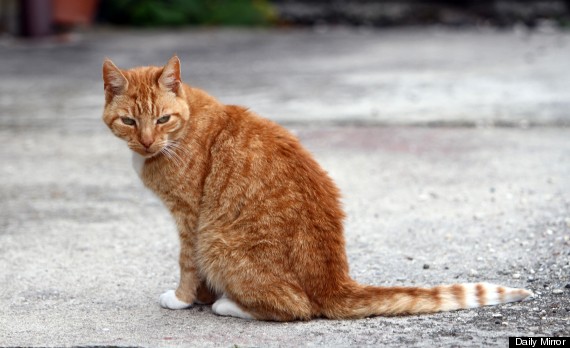 According to the Daily Mirror, the culprit could have been Tom, a 12-year-old ginger tomcat that lives close to the original sighting and likes to prowl the nearby fields.
Though police aren't treating the lion sightings as a hoax, they called off the search after no pawprints, droppings or other evidence was found, despite combing the countryside around Clacton-On-Sea.