An investigation was continuing on Sunday into how how a woman died after being crushed by falling masonry.
The victim, believed to be in her 20s, was pronounced dead at the scene on Thursday after being struck by building debris, believed to be a concrete window frame, in Hanover Square in central London.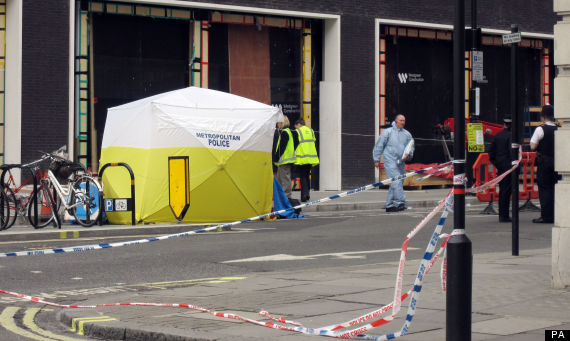 A woman was killed in front of horrified onlookers when she was hit by falling masonry
A Scotland Yard spokeswoman said today police were working alongside the Health and Safety Executive (HSE) to try to establish what happened.
A post-mortem examination was carried out yesterday and police were awaiting the results, the spokeswoman added.
The emergency call was made by a man delivering electrical cables to the area. He said that the woman was "flattened", and that he thought he saw her "draw her last breath".
He said he approached the woman after the 999 operator told him to get closer.
"Her eyes were open and I saw her hand move and then I think I saw her last breath and then the light went out: she'd gone," he said.
"You'd have more chance of winning the lottery than that happening to you.
"She was in exactly the wrong place at the wrong time," he added.
An air ambulance, two cycle responders, two ambulance crews and members of the hazardous area response team were sent to the scene and extensive efforts were made to resuscitate the woman, a London Ambulance Service spokeswoman said. Extensive efforts were made to resuscitate the woman
The woman died outside 5 Hanover Square, which will house a fine art gallery on the ground floor, according to the building's website.
On Thursday, three workers having a cigarette break outside Vogue House, which overlooks 5 Hanover Square, said barricades had been in place around the building but were removed a few months ago.
One woman said: "We walk past there every day. It's quite scary that it could have been any of us."
An employee of Castle-Davis construction consultants, providing project management at 5 Hanover Square, said on Thursday that it did not have a statement about the incident.