Britain's Paralympians are still in the hunt for more gold medals and world records as they aim to build on the success of Super Saturday.
Saturday saw a stunning day of tears and jubilation as athletes landed five gold, five silver and six bronze medals.
The day was capped off in stunning fashion as darling of the Games Ellie Simmonds wept with joy after her gold in the 400m freestyle - smashing the world record by five seconds.
And ParalympicsGB continued their success on Sunday by landing two gold and two silver medals - all before lunch. The Great Britain Mixed Coxed Four (from the left Pamela Relph, Naomi Riches, David Smith, James Roe and cox Lily van den Broecke) celebrate with their medals
David Smith, James Roe, Naomi Riches, Pam Relph and cox Lily van den Broecke were given a royal seal of approval as they won gold in front of the Duchess of Cambridge at Eton Dorney. Theresa May and Danny Alexander watch the rowing finals at Eton Dorne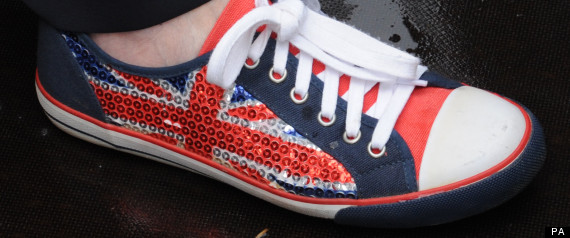 Theresa May's patriotic footwear
There was also success in the Olympic Stadium, as Welshman Aled Davies took gold in front of roaring fans.
Paralympic debutant Davies, 21, bettered the bronze he won in Friday's shot put, with a gold in the discus event.
Wheeling away in delight, Davies, who was born with talipese and hemi-hemilia in his right leg meaning the limb is missing bones, muscle and ligaments, could barely control his emotion as he turned to the crowd and held his lands aloft in delight.
He said: "I am probably the happiest guy on the planet right now."
Long jump star Stef Reid, 27, set a lifetime best as she leapt to silver - recording two new Paralympic records in the process.
The 27-year-old, who lost her right leg below the knee in a boating accident aged 16, launched herself to 5.28 metres only to be denied gold by a whisker.
And Sophie Wells, 22, from Newark, Nottinghamshire, also landed silver at the equestrian centre at Greenwich Park.
The rider, who was born with amniotic band syndrome, which affects her joints, won second place in the Grade IV individual event.
More world records tumbled in the velodrome, as Anthony Kappes and Craig MacLean set a blistering time in qualification for the men's tandem sprint.
The pair had mechanical trouble at the start yesterday and did not finish the one-kilometre time-trial - the event in which Neil Fachie and Barney Storey won gold in a world record time.
They have a second chance for glory as they ride for a gold medal this afternoon.
There was disappointment at Eton Dorney, however, where gold medal favourite Tom Aggar finished fourth in the AS men's single sculls final.
Aggar, the four-time world champion, was unbeaten for Britain since 2007 but finished just outside the medal position.
Former Army captain Nick Beighton and partner also had to settle for fourth in the mixed adaptive rowing sculls final with Samantha Scowen.
Beighton, 30, lost both legs just three years ago in an Afghan bomb blast, in which he had to be administered 31 pints in blood transfusions.
There are hopes of further medals today as David Weir takes to the Olympic stadium to contest the 5000m T54 final.
The "Quadfather" Peter Norfolk also starts his campaign for gold in the wheelchair tennis.
Norfolk, 51, had a motorcycle accident in 1979 which left him with a spinal cord injury at T4/5 level.
He won gold in the quad singles in Athens and Beijing and will be hoping to make it a hat-trick this week.
And in the stadium tonight paralympic South African superstar Oscar Pistorius bids for a gold medal in the 200 metres.
Britain now sits third in the table with 11 gold, 18 silver and 11 bronze - taking the medal haul to 40.