UPDATE: Bruce Willis' wife has taken to Twitter to deny that her husband is considering legal action.
If the papers are to be believed, Bruce Willis may be about to learn that when it comes to Apple and digital music rights, old habits Die Hard.
According to unconfirmed reports by The Sun and the Daily Mail, the 57-year-old actor is 'considering legal action' to make sure his children can inherit his iTunes music collection.
The papers suggest that Willis is concerned that his vast library of music will not pass to his three daughters on his death.
There is currently no legal way to give ownership of iTunes downloads to a third party. The purchase of music on iTunes is actually of a 'license' to play a track, and not the file itself.
Both papers cite no sources for the news, however, and the Huffington Post could not confirm that Willis is considering any action.
The reports add that the Expendables 2 star has asked "advisers" will either set up a trust to keep hold of his download, or support separate legal cases brought by iTunes users against Apple.
The Sun says he is "preparing to take Apple to court" - although again, no statement to that effect has been made by Willis.
Whether or not Willis is really suing Apple, it is true that downloaders often do not realise the limits of their ownership rights.
Apple's terms and conditions state that:
"This license does not allow you to use the Licensed Application on any Apple Device that you do not own or control, and except as provided in the Usage Rules, you may not distribute or make the Licensed Application available over a network where it could be used by multiple devices at the same time"
… meaning technically you will not be able to pass on that music.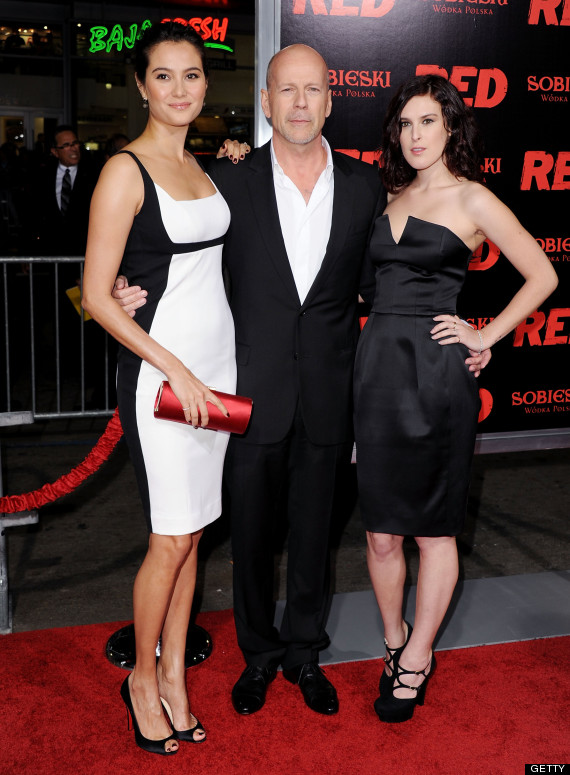 Actor Bruce Willis pictured with wife Emma Heming (L) and daughter actress Rumer Willis
Jim Killock, exécutive director of the Open Rights Group, told the Huffington Post UK that while the law is clear on legality of transferring digital goods, "of course that's wrong, morally speaking".
Killock said: "You can see why it's been set up like that - it's difficult to track if somebody has deleted something and has sold it in a second-hand market. But obviously when you die, this is about a huge value of material you've collected over a lifetime.
"It's amazing that Bruce Willis has spent £40,000 on iTunes, but I suspect lots of people are spending thousands of pounds on digital books now. And certainly will do over a lifetime. And it's wrong to say these books, and your intellectual legacy, can't be given to your children."
Killock added that Willis' challenge was "incredibly important" but that a quick solution could be found - if companies like Apple felt it was in their interest.
"Companies could resolve it, and could negotiate terms with copyright holders that would allow them to pass such material on in their wills," Killock said. "They haven't done it because from their standpoint it's not in their financial interest."