If you feel moved by the spectacle of Planet Earth and all its wonders when you're watching it on the small screen, imagine watching it on the big screen. In a huge concert hall. With the sweeping score played by a live orchestra in front of you, as you follow some of the world's most mythical creatures into their natural tucked-away habitats, and gaze on our planet's most stunning, unspoilt vistas. All in all, it's quite a feast.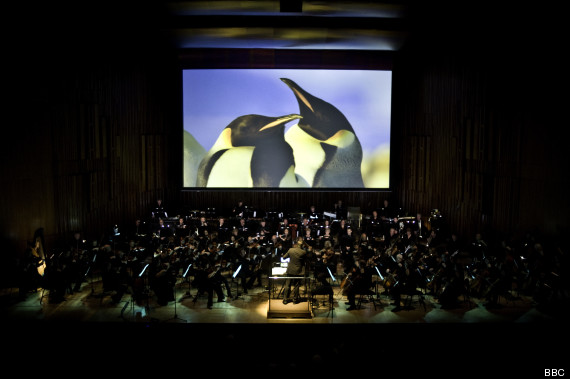 Planet Earth Live in Concert - a feast of film and music
You'll have the chance to experience this spectacular music and film combination for yourself with Planet Earth in Concert kicking off its UK-wide tour from Nottingham this Friday - further concert dates below.
The show premiered last November at the Barbican, with the composer George Fenton leading the 80-strong Philharmonia Orchestra through a performance of his sore alongside a specially edited feature presentation of high-definition footage from the best of the landmark BBC series.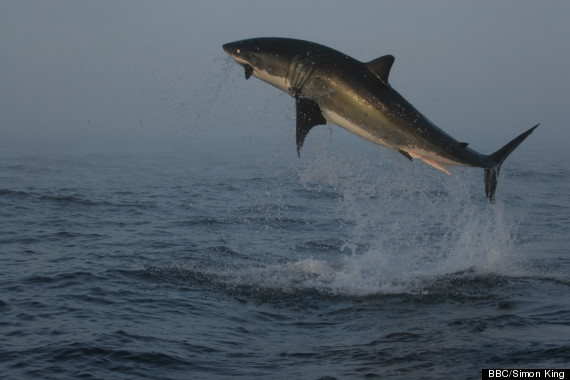 Some of nature's most impressive wonders are captured on film, and brought to bigger life with Fenton's score
No small part of it is the majestic score created by award-winning composer George Fenton. For a man with a litany of soundtracks under his belt – from the instantly recognisable twangs of Shoestring and Bergerac to the epic sounds of Cry Freedom and The Madness of King George, some of his most widely-heard tunes are those scores for Frozen Planet, Blue Planet as well as Planet Earth. Even for this most established of composers, creating a soundtrack for the natural world has provided a unique challenge...
"I always wanted to be part of this world," he told me during rehearsal. "I wouldn't care what role I was doing. When producer Alastair Fothergill phoned me up and asked me to do Blue Planet, I thought that just sounded amazing, I dropped the film I was doing and came home.
"David Attenborough doesn't have to think"
"At that time, natural history had a very minority appeal. But he told me I needed to write a huge score, as though for a film - write big, because they are big stories. And one thing led to another. And it's become this huge thing.
"I've never been into natural history. I don't know if I'm even a nature lover, but I know quite a lot about it now. It's been a wonderful period of my life.
"The composer is given the first film, he's the first viewer. I see it like an audience, and then I'm passionate about conveying it. And I want viewers to realise afresh how lucky we are to have this diversity of life, the understanding of it all, and have the opportunity to protect it."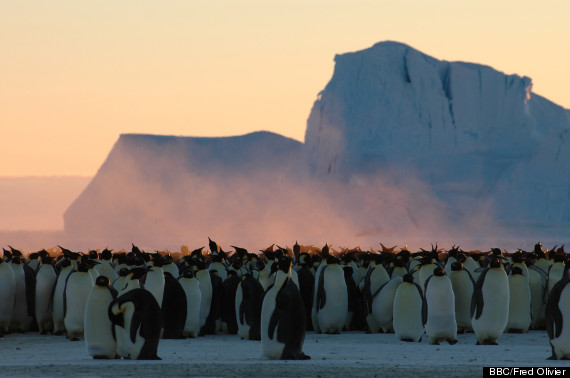 Majestic penguins gather for warmth
At the core of Planet Earth, as for all of the BBC's most revered nature programmes, is Sir David Attenborough. From Fenton's perspective, why are the veteran presenter's dulcet tones so affecting?
"He's the calmest and most understanding person," he replies. "He's the person who can connect every single thing, you with this sofa, with that wooden floor, with an ant.
"He understands how everything belongs to everything. That is why he doesn't have to think about how to tell a story, or inflect a story. He doesn't think about what's funny, or sad, because he just understands it. It's experience and incredible curiosity, and talent.
"And that's what I'm trying to do, too in my own little way."
Planet Earth in Concert begins on Friday 7 September in Nottingham. Watch the trailer below, and check out tour info below for more info:
TOUR DATES:
Friday 7 September, 7.30pm - Royal Concert Hall, Nottingham - 0115 989 5555
Saturday 8 September, 2.30pm - Royal Concert Hall, Nottingham - 0115 989 5555
Saturday 8 September, 7.30pm - Royal Concert Hall, Nottingham - 0115 989 5555
Sunday 9 September, 2.30pm - Wales Millennium Centre, Cardiff - 029 2063 6464
Sunday 9 September, 7.30pm - Wales Millennium Centre, Cardiff - 029 2063 6464
Thursday 13 September, 7.30pm - Symphony Hall, Birmingham - 0121 345 0600
Friday 14 September, 7.30pm - Symphony Hall, Birmingham - 0121 345 0600
Saturday 15 September, 2.30pm - Bridgewater Hall, Manchester - 0161 907 9000
Saturday 15 September, 7.30pm - Bridgewater Hall, Manchester - 0161 907 9000
Sunday 16 September, 7.30pm - Royal Festival Hall, London - 0844 847 9910