Former F1 driver and double Champ Car champion Alex Zanardi has won gold at the Paralympics 11 years after losing both legs in a horrific racing accident.
Using a carbon fibre he designed and built, the Italian triumphed in the H4 handbike time trial, beating Germany's Nobert Mosandl by more than 27 seconds over 16km at Brands Hatch.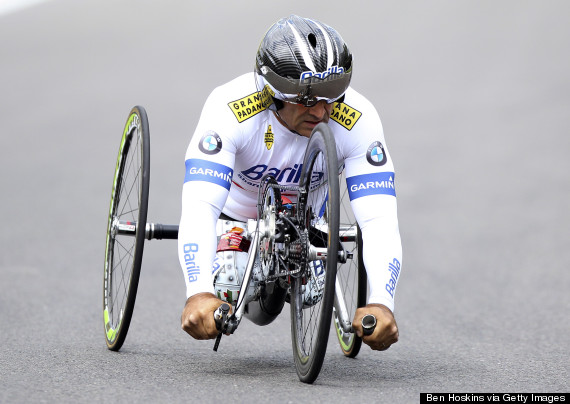 Zanardi is competing in the Paralympics for the first time
As a former racing driver, he is no stranger to the Kent circuit and was once a lap record holder during his F3000 career.
After winning the race, Zanardi lifted his bike above his head in celebration of a success which included the promise of a ride in one of motorsport's most fabled events.
He said: "I'm Alex Zanardi, I always have to come up with something at the end of a race - I have a bit of a big head.
"My great friend Jimmy Vasser called me last night and said if you win a gold medal I'm going to put you in a car for the Indy 500, so I will have to call him back tonight.
"I only collected a second place, a third-placed finish and to win I had to come back with a hand-cycle. It's an amazing feeling.
"I'm really, really happy for the result and I knew that this moment was going to bring a little bit of sadness as well.
"This is almost the last day of a great adventure and from Monday I will have to find something different, otherwise life will become a little boring.
"It's at the top of the scale with many other great moments I've been lucky enough to live."
Zanardi, who raced for four F1 teams including Jordan and Williams during the 1990s, had both legs amputated following a near-fatal Champ Car accident at Germany's Lausitzring when his car was was hit by rival driver Alex Tagliani at more than 200mph. The crash was so bad that Zanardi was given the last rites as he was flown to hospital by helicopter after losing three-quarters of his blood.
Since then the 45-year-old Italian, who has a ferocious competitive streak, has won world time trial silver in 2011, four years after finishing fourth in the New York marathon, and has even returned to motor sport, most notably the World Touring Car Championship in which he won four times from 105 starts.
However, he has had his sights set on London 2012 for some time and the chance to represent his home country.
After his victory, Zanardi played down his personal feat.
"Anybody can be an inspiration for each other," he said.
Zanardi will be back in action later this week when he competes in the H4 men's road race and the H4 mixed team relay.