British teenager Jonnie Peacock sealed his status as the fastest amputee in the world by upstaging Oscar Pistorius in the biggest race of the Paralympics on Thursday night, crowning a perfect day for the British Paralympic team as they surged past their pre-Games medal target.
The 19-year-old from Cambridge showed no regard for reputations as he stormed away from the field to win in 10.90 seconds, a new Paralympic record.
He came into the Games as the T44 world record holder but inexperienced on the big stage, but proved he can more than handle the occasion.
He matched David Weir and Sarah Storey, two of the most successful Paralympians in history, who both won gold on Thursday.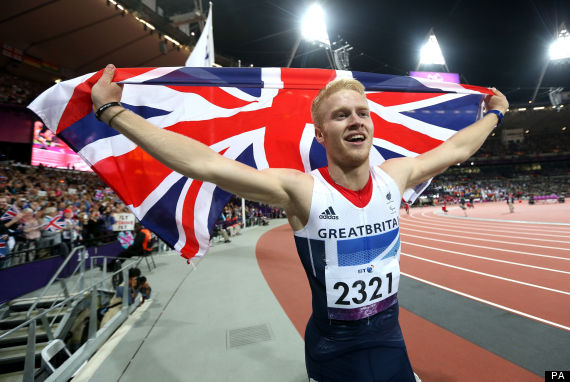 Jonnie Peacock celebrates as he crosses the line to win the Men's 100m - T44 Final
Only American Richard Browne could get close to the Briton, claiming silver in 11.03secs.
Pistorius, the defending champion, was never in contention, finishing fourth behind fellow South African and room-mate Arnu Fourie, but was quick to embrace Peacock at the finish.
Chants of 'Peacock, Peacock, Peacock' rang around the stadium before the start, which was delayed when Brazilian Alan Fonteles Oliveira appeared to twitch and the field were asked to stand up.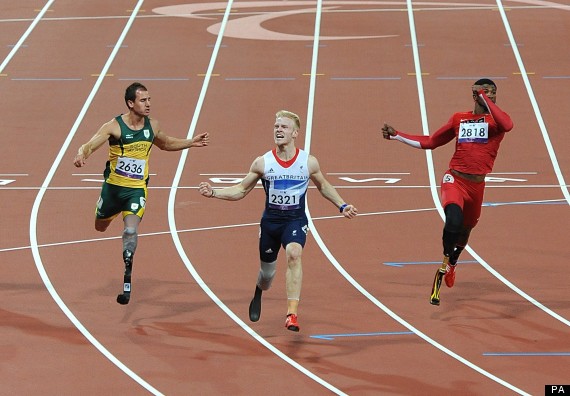 Jonnie Peacock crosses the line to win the Men's 100m T44 Final
A faulty rather than a false start was the verdict and the added tension did not affect Peacock, who was able to race off on a lap of honour draped in the Union Flag.
Peacock's victory crowned a golden night for Great Britain, coming minutes after David Weir had continued his relentless pursuit of quadruple gold by making it three out of three with yet another masterful ride, this time to win the 800m title.
Peacock told Channel 4: "It's absolutely surreal. For the past four days, this event being quite late on, you've got these guys going out getting gold and you just want to be part of that.
"This Games is definitely a legacy and to be part of that is amazing.
"I knew this crowd was going to be intense. Dave Weir going minutes before - I knew he'd win, and I knew the crowd would be on a high. We'd had a great day so far, Hannah opened up the evening with a gold. I knew they were going to do that.
"[But] I didn't think it was going to be that crazy, I was like, who's going to get a bigger cheer, Oscar or me? David Weir crosses the line in the 800m to win gold
"It was just surreal. I had to tell them to be quiet after a while.
"I was really annoyed with my start yesterday. This time I actually knew I could push. About 60m I started to think, 'oh crap I'm in the lead. What's going on here?'
"I was rocking a little bit. It was crazy."
Pistorius was quick to hail Peacock's gold, telling Channel 4: "What we've seen tonight is the start of an amazing Paralympics sprinter.
"I've just been watching it on the screen again and it was a great performance.
Britain's Sarah Storey also took her fourth gold of the Games in the time trials
"I can't imagine how happy he must be to do this in front of his home crowd.
"Well done, it's a great time for him. He's still young and he's got a great future ahead of him.
"I was hoping to finish in the medals but the 100 is not my thing. My room-mate (Fourie) pipped me on the line for third."
Pistorius admitted he is now hoping for gold in his favourite event, the 400m.
"I'm desperate for that," he said. "I'm looking forward to the 400m."
His success comes after Sarah Storey, who won her fourth gold of the London 2012 Paralympics on Thursday - making it 11 overall.