Prince Harry was settling into daily life and the austere conditions at Camp Bastion on Friday.
The setting here could hardly be more different to those in the Sin City of Las Vegas, where just a few weeks ago he was pictured naked during a boozy romp in a £5,000-per-night hotel suite.
It is equally unlike the luxuries of Buckingham Palace and Balmoral, where the Royal Family enjoy silver service, gourmet food and chauffeur-driven cars.
Here Harry will eat his "scoff" in the "cookhouse", "bed down" in his "pit space" and drop his own "dhobi", or washing, at the laundrette.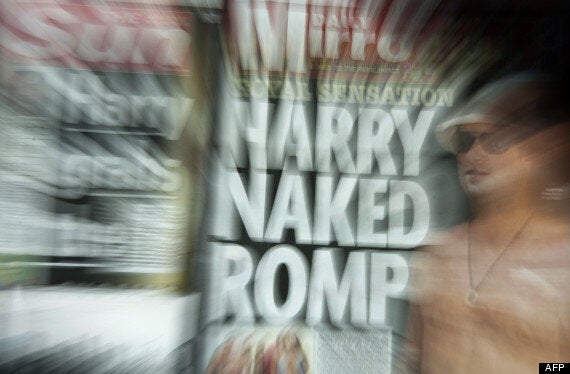 Embarrassing images of Prince Harry frolicking naked in a Las Vegas hotel were published online and in print
And as Camp Bastion is completely alcohol-free, the only "brew" that will pass his lips will be tea.
Harry turns 28 next Saturday, but instead of a night out at an exclusive London club with his posh pals, he has just a few treats available: a fresh coffee, perhaps, or a slice of pizza from the bizarrely out-of-place Pizza Hut container?
Of course, he might well be on duty, waiting to scramble to his Apache helicopter.
The royal - like other members of the 100-strong 662 Squadron, 3 Regiment Army Air Corps - will bunk up in a shipping container with a fellow soldier.
He will use a simple bathroom with stainless steel sinks, toilets and showers, which sometimes run out of hot water.
At the moment the weather is cooling down from the summer months, when temperatures push the 50C (122F) mark.
During the daytime it reaches the mid-30s and drops to the high 20s at night.
But as Harry's four-month tour goes on, the weather will deteriorate.
The bone-dry dust, which constantly swirls around in summer, will turn muddy with the November rains, and December mornings are often frosty.
The base never sleeps, as aircraft fly overhead through the day and night, vehicles rumble by and soldiers practise their shooting accuracy on the ranges.
There is also the constant whirr of generators and air-conditioning units.
One of the only reminders of where we are in the world is the sound of an occasional prayer-call broadcast over an Afghan radio.
With little else to do with spare time, troops are often seen doing "fizz", or physical exercise.
Armed soldiers lug their weapons as they run around Bastion's dusty roads, and the camp has a gym for servicemen and women to keep in shape.
As the sun gets lower in the sky, soldiers get together for games of volleyball or football, which almost always have an air of competitive tension.
The more relaxing option is to head up to the Naafi (Navy, Army and Air Force Institutes), which has a basic shop and the Heroes Bar that serves snacks and alcohol-free drinks.
During his four-month tour, Harry will be treated like every other soldier in the vast camp.
Even as an officer, he has fewer privileges than at other bases in the UK and around the world.
There is no officers' mess, no superior accommodation and soldiers are not required to salute commissioned officers as they walk past.
Although his time at Bastion will be less comfortable than back at home, Harry knows it could be worse.
Back in 2007/08, the prince was stationed at Fob (Forward Operating Base) Delhi, where showers were limited to one every three days, food was standard rations, and soldiers slept on camp beds.
Related