Security fears have prompted the cancellation of a controversial Channel 4 documentary screening of Islam: The Untold Story, by historian Tom Holland, which prompted more than 1,000 complaints when it aired.
After the documentary was aired at the end of August, Holland was threatened online with a torrent of abusive messages on Twitter.
The documentary set out to examine "the issue of whether, as Muslims have always believed, Islam was born fully formed in all its fundamentals, or else evolved gradually, over many years".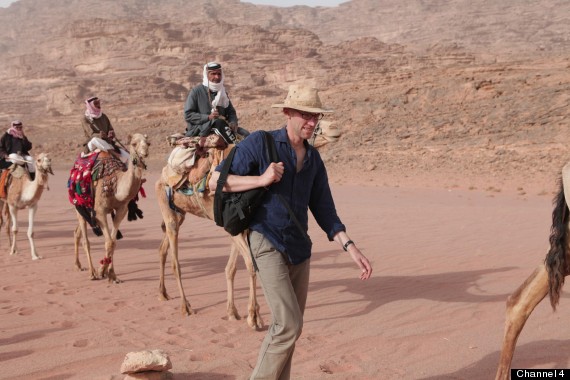 Channel 4's Tom Holland in his documentary Islam: The Untold Story
The Islam Research and Education Authority, based in north London, published a detailed critique of the programme's claims, with lengthy footnotes, describing the programme as "reckless".
A Channel 4 spokeswoman told The Huffington Post UK that they had taken "security advice" over the screening, which was to have been held this week at the broadcaster's offices.
Holland, and "a number of other experts were invited" to the screening.
The channel said: "We remain extremely proud of the film which is still available to view on 4oD."
Holland, the writer of best-sellers Rubicon and Persian Fire, said after the complaints: "We were of course aware when making the programme that we were touching deeply held sensitivities and went to every effort to ensure that the moral and civilizational power of Islam was acknowledged in our film, and the perspective of Muslim faith represented, both in the persons of ordinary Bedouin in the desert, and one of the greatest modern scholars of Islam, Seyyed Hossein Nasr."
Afroze Zaidi-Jivraj, writing for The Huffington Post UK, said Muslims had complained of an "Islamophobic backlash they received on Twitter and other on-line forums, after they complained on these forums about several significant shortcomings in Holland's approach.
"I wonder if he realises at all that with his research into the origins of Islam, one in which he assumes the superiority of secular Western historic traditions over all others and appears to make his evidence conveniently fit his desired conclusion, he has only served to worsen the understanding of an already poorly-understood faith and its much-maligned adherents."