Kim Sears, the girlfriend of the now US Open champion Andy Murray, was finally able to celebrate in a Grand Slam final, at the fifth time of asking, after her boyfriends triumphed in a five-set thriller of Novak Djokovic.
Sears, an English graduate who lives with Murray in his £6m home, has followed him across the world since his early professional days in 2006 and was courtside on Monday night to see Murray win his first ever major title.
Shock or awe? Kim Sears watches on as Murray fights for the US Open title against Djokovic
She, like the thousands in the stadium and the millions watching on television, went through a range of emotions as Murray won the first two sets of the more before conceding sets three and four.
Murray came through in the fifth, ending a 79-year drought as he became the first British man to win a major title since Fred Perry.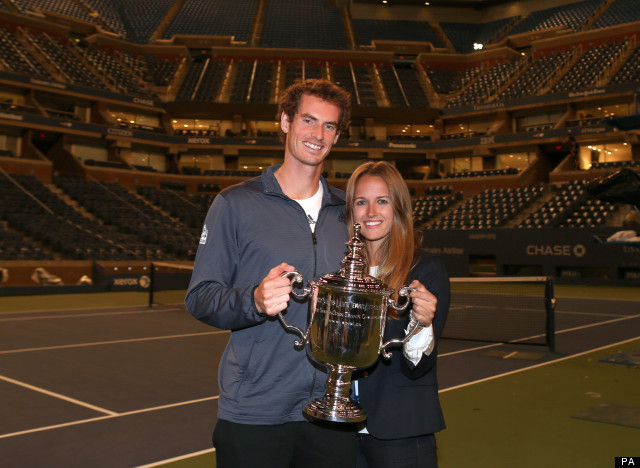 Murray and Sears with the US Open trophy late on Monday night
Afterwards, Sears was able to celebrate with Murray and the trophy at Flushing Meadows, ending six years of hurt.
Since first appearing on the scene in 2006, long-suffering Kim has had to sit through a US Open loss to Roger Federer, two crushing Australian Open defeats to Djokovic and Federer and this year's Wimbledon epic against Federer before she could celebrate a Grand Slam victory with Murray.