Apple has unveiled the all-new iPhone 5.
The iPhone 5 features a larger screen, a 4G LTE data connection, an improved camera and a two-tone, aluminium design.
The phone, which comes in black and white, is the thinnest and lightest phone Apple has ever made. The phone is 20% lighter, weighing just 112 grams.
It also has a bigger four-inch display, which Apple said was the "world's most advanced", as well as a higher-capacity battery, with 220 hours of standby time.
HANDS ON PREVIEW: We Put The New iPhone Through Its Paces
It will launch on several networks in the UK, as well as the new 4G LTE network EE, which was only announced on Tuesday.
Pre-orders for the iPhone 5 will start on Friday, and it will ship in the UK a week later on 21 September.
The new iPhone will keep the same price as the previous generation at its release - £529 (16GB), £599 (32GB) and £699 (64GB) - while the iPhone 4S will fall in price and the iPhone 4 will become free on contract.
The phone will run on a brand-new A6 chip, which Apple said was twice as fast as that in the previous generation iPhone 4S.
The iPhone 5 has an 8-megapixel camera, with a new dynamic low-light mode and more advanced lens alignment.
READ MORE: iOS 6 Revealed
READ MORE: Apple takes wraps off iTunes 11
The new phone also has a much smaller dock connector named 'Lightning', which Apple said would allow faster data transfers. An accessory to adapt existing iPhone accessories will also be made available, so that your older speakers and docks will still work with the new iPhone.
Above: "The ocean just looks bluer on the iPhone 5," Schiller said.
The phone's audio systems were also upgraded. The phone now has three microphones, to help with video calls, noise cancellation and video recording. The phone has an improved speaker, and adds noise cancellation to the phone earpiece.
The new iPhone will run Apple's latest mobile operating system, iOS 6. Apple demonstrated several previously announced features, such as its new mapping application, turn-by-turn navigation and 3D satellite flyovers.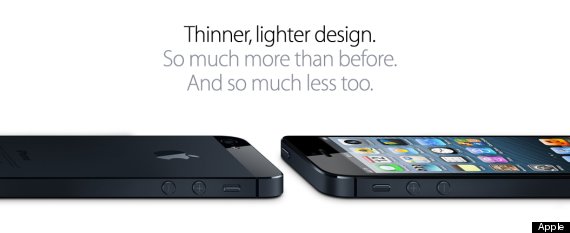 Apple CEO Tim Cook made the announcement at the company's hugely-anticipated keynote in San Francisco, California.
Demand for the new iPhone is expected to be huge, with search data before the event revealing a massive pent-up demand for a new iPhone.
Every new generation of the iPhone has sold more units than all the previous generations combined, and investors' hopes are high that the new model can come close to replicating that success.
The new iPhone comes after a week of announcements by top mobile phone manufacturers looking to steal the limelight.
Nokia's recently announced Lumia 920 has won plaudits for industrial design and its ground-breaking camera, while Motorola and Samsung have also unveiled new devices in recent weeks.