Apple has confirmed the all-new iPhone 5 - by accident.
The iPhone 5, rumoured to feature a larger screen, a 4G LTE data connection, an improved camera and a two-tone, aluminium design, is listed on Apple's own search engine.
Typing in 'iphone-5' reveals a list of pages referencing the phone, including a press release.
None of the links work, but look set to go live when Apple CEO Tim Cook makes the announcement at the company's hugely-anticipated keynote in San Francisco, California.
Other searches appear to confirm that new iPod Nanos, a new iPod Touch, a new version of iTunes and other products will be announced at the event, starting 6pm UK time.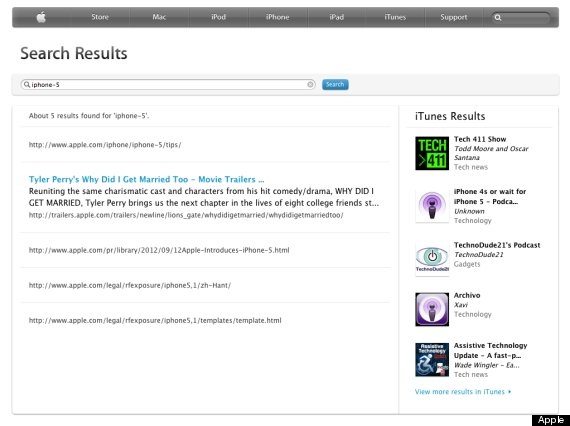 Demand for the new iPhone is expected to be huge, with search data before the event revealing a massive pent-up demand for a new iPhone.
In the UK it looks set to be released on the new EE 4G network, unveiled yesterday, as well as several other 3G networks.
Every new generation of the iPhone has sold more units than all the previous generations combined, and investors' hopes are high that the new model can come close to replicating that success.
The new iPhone comes after a week of announcements by top mobile phone manufacturers looking to steal the limelight.
Nokia's recently announced Lumia 920 has won plaudits for industrial design and its ground-breaking camera, while Motorola and Samsung have also unveiled new devices in recent weeks.