Renowned director Benedict Andrews returns to the London stage with Anton Chekhov's Three Sisters at the Young Vic, giving the tragic tale of the Russian siblings haunted by dreams of the bright lights of a far-away Moscow a modern reboot.
After the Australian's Barbican production Gross Und Klein earlier this year, Cate Blanchett described him as having "an incredible visual sense..[he] can wrestle any text to the ground."
So, did Andrews manage to pin down Chekhov?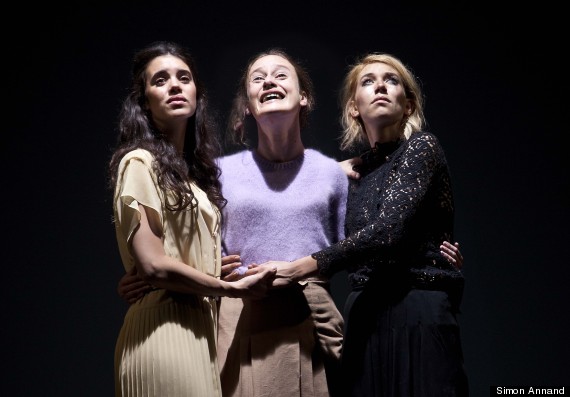 (left-right): Irina (Gala Gordon), Olga (Mariah Gale) & Masha (Vanessa Kirby)
Faced with a bare stage, it is hard to imagine how Andrews plans to do justice to Chekhov's Three Sisters - a play with a myriad of characters exploring multiple existential crises, much of it rooted in a sense of place - without using a single table, chair or background.
But as the sisters Olga (Mariah Gale), Masha (Vanessa Kirby) and Irina (Gala Gordon) enter the stage with their whimsical opening line "Father died exactly a year ago", the simplicity draws us immediately into the world of the orphaned Sergeyevna siblings in a remote Russian town.
In Andrews' production, Chekhov also gets an energising modern touch with 20th century clothes and pop culture references; vodka gets hurled across the stage in drunken revery and David Bowie's Golden Years becomes a recurring soundbite.
Acts One and Two see the sisters establishing their frustrations: Masha's stagnant marriage, Olga's fears of spinsterhood and Irina's dissatisfying career. Despite their mutual ambition to escape to Moscow, the bonds of sisterhood are not convincing; physical distances on the huge stage make the sibling interactions appear empty. Kirby excels as Masha the confident middle child, strutting the stage with acerbic quips, but Gale and Gordon take more scenes to establish personalities.
It is later in Three Sisters when the sparse set design comes into its own - the stage is removed a piece at a time by stagehands, physically bringing the sisters together on a shrinking island as they cope with the aftermath of a devestating town fire.
With lines such as "my heart is like a piano that's been locked away and the key is lost", a production of Three Sisters could easily become too effusive. Instead, Andrews delivers a tough production with punch and bite, grabbing some of the most thorny Chekhov questions about human existence with a firm unsentimental grip.
Three Sisters is running at the Young Vic, London 8 Sept 2012 - 3 Nov 2012.
Watch the trailer for Three Sisters:
Take a look at all of HuffPost UK's theatre reviews: