Policewomen Fiona Bone and Nicola Hughes were murdered in an act of "cold-blooded killing" after being lured into a trap, Greater Manchester Police said on Tuesday.
Chief constable Sir Peter Fahy, his voice shaking with emotion, told a press conference that Miss Bone, 32 and Miss Hughes, 23, were ambushed by one-eyed fugitive Dale Cregan, 29, who is said to have been wielding a gun and a grenade, after responding to a bogus burglary report in Tameside.
"It would appear Cregan has deliberately done this in an act of cold-blooded murder," he told journalists, adding it was "impossible to fathom such an evil act."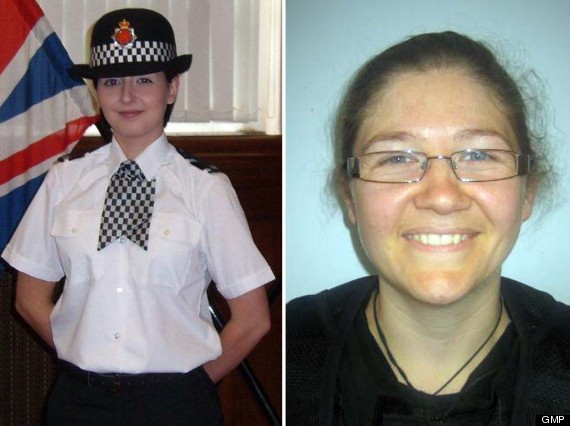 32-year-old Fiona Bone and 23-year-old Nicola Hughes were killed after they responded to reports of a burglary
Sir Peter, speaking at a sombre press conference at GMP headquarters, said: "Clearly we are devastated today by the loss of two of our officers.
"This is one of the darkest days in the history of the Greater Manchester Police if not for the police service overall, because we have lost two deeply loved and valued colleagues, because they are part of our team. Policing is very much a family.
"But also because of the huge efforts that officers had been making to arrest and detain Dale Cregan. Obviously the officers involved in that inquiry are shattered by this outcome."
The Chief Constable said it was routine to send unarmed officers to a burglary call.
"We believe that Dale Cregan was in a house in Abbey Gardens overnight, and at some point this morning has either himself made a call or had somebody else make a call reporting a burglary," Sir Peter said.
"This particular address was not known to us. So as would be routine, two unarmed officers were sent to the scene.
"When they arrived, it appears that Cregan emerged into the road and killed these two officers. A firearm was used, a grenade was also used."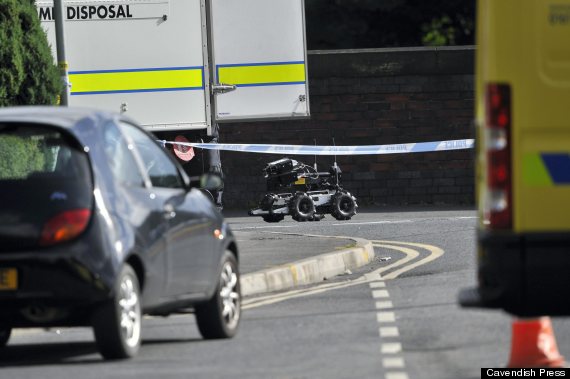 A bomb disposal unit was seen outside the police station where Cregan handed himself in
Asked if the grenade was thrown directly at the two police officers, Sir Peter said: "Certainly we believe the grenade was thrown at the officers but we have not been able to be specific about the injuries the officers suffered or how they died."
Sir Peter said he believed Cregan had been "protected by a criminal conspiracy to harbour him", adding that the force was "fully determined" to investigate that conspiracy and bring those involved "to book".
Two people from the house in Hattersley, a man and a woman, were helping police with inquiries.
Sir Peter paid tribute to the police officers for showing "courage" and "bravery." He said Miss Bone had been planning her wedding and Miss Hughes was a "chatterbox" and a "great bobby" who was "always smiling".
David Cameron described the killings were "an act of shocking evil by an appalling individual."
"What we have seen is the absolutely despicable act of pure evil," the prime minister said. The scene of the incident in Greater Manchester
"The cold blooded murder of two female police officers doing their job out there protecting the public; another reminder of the incredible risks and great work our police service does.
"My thoughts and I think the thoughts of the whole country will be with their families at this impossibly difficult time."
Asked if the killings would reopen the debate on arming police, Mr Cameron replied: "Well it certainly reminds us, it's a shocking reminder of what the police do on our behalf.
"There are more armed police officers, there are more armed response units. But this was supposed to be the response to a domestic burglary and that wouldn't normally require armed officers.
"So there's no sign that anything wrong was done, the only thing there was was an act of shocking evil by this appalling individual who has taken the lives of two women police officers who were doing their duty." A body bag outside the scene where the two officers were shot dead
Sir Peter said he believed Cregan had been "protected by a criminal conspiracy to harbour him", adding that the force was "fully determined" to investigate that conspiracy and bring those involved "to book".
He said he was not aware that Cregan had contacted police at any time during their manhunt or made any threats to police officers.
But he added that police had been looking at a range of scenarios including Cregan trying to kill other people as a result of the gangland feud he was involved in.
Great Manchester Police's Garry Shewan reads a statement about the death of the first policewoman
And he said there was "concern" that he might target police officers.
Sir Peter said their deaths would not change the law surrounding armed police saying: "We are a police force that is routinely unarmed. We are passionate that the British style of policing is unarmed."
Greater Manchester Police's Ian Hanson said he was "struggling to find the words", saying: "This is cold blooded murder. This is slaughter of the innocent. "
SEE ALSO
Comments are closed on this entry for legal reasons