Manchester and Liverpool are home to above average rates of drinking, depression and cancer according to a recent study comparing 26 European cities.
The study, known as the European Urban Health Indicator System, found major differences in lifestyle and life expectancy in urban areas across the continent. Researchers hope that their findings have identified problem areas that policymakers will address.
In England's Greater Manchester and Merseyside depression and anxiety were identified as issues, along with cancer and respiratory disease – both of which were higher than the study's average.
Obesity among Manchester and Liverpool's populations was also higher than the average, as was heavy drinking among the population's youth and binge drinking among adults.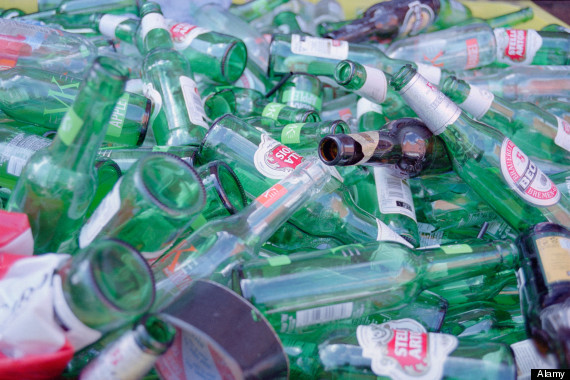 Drinking was found to be above average in Liverpool and Manchester
It wasn't all bad news for Manchester though: Mancunians ate considerably more fruit and vegetables than the average city; they had more green spaces to enjoy, and ate breakfast more frequently than their European counterparts. Liverpudlians smoked less than the European average but had a lower-than-average perception of their own wellbeing.
Birmingham, Cardiff and Glasgow were the other British cities analysed. Death from respiratory disease in Birmingham was substantially higher than the study's average, although the incidence of male cancers was significantly lower. Heavy drinking and smoking among young Brummies was also well below the average.
LIKE HUFFPOST UK LIFESTYLE ON FACEBOOK | FOLLOW US ON TWITTER
In Cardiff, male cancers and deaths among women from circulatory diseases were much lower than in the other European cities studied, but depression and anxiety among adults in the Welsh capital, as well as binge drinking, were higher than the average. Mortality from cancers and respiratory diseases were seen as key concerns in Scotland's largest conurbation, but drinking and smoking among young Glaswegians was on par with the average.
See also:

UK Food Is Voted The Worst By US And Australia In Survey
Project coordinator Dr Arpana Verma, from The University of Manchester, said: "The gap between the rich and poor living in urban areas across the world is widening. The urban poor are now worse off than the rural poor.
"Health inequalities are a greater issue than ever before and it's becoming increasingly important for policymakers to take the valuable information that we have to offer and translate into policies that can help improve our health.
"The European Urban Health Conference highlights these disparities and demonstrated effective tools that policymakers can use to improve health for all."
The 26 cities and conurbations are: Amsterdam, Birmingham, Bistrita, Bordeaux, Bratislava, Cardiff, Craiova, Glasgow, Greater Manchester, Iasi, Kaunas, Koln, Kosice, Liepaja, Ljubljana, Maribor, Merseyside, Montpellier, Oberhausen, Oslo, Riga, Siauliai, Skopje, Tetova, Tromso and Utrecht.