Real Madrid entertain Manchester City in the Champions League on Tuesday night in what has been predictably billed as the moneymen match.
Almost a decade before Sheikh Mansour instigated City's ambitious spending in 2008, Real Madrid had been fees that even City still haven't matched.
Luis Figo and Zinedine Zidane, successive signings in 2000 and 2001 had the distinction of being the most expensive players in football history, as they heralded the galacticos era at the club.
President Florentino Pérez returned to the Santiago Bernabéu in 2009, and the spending got bigger. Cristiano Ronaldo was bought for a new world record fee of £80m while Kaká followed for £56m. Karim Benzema and Xabi Alonso cost £65m combined that same summer.
City's record transfer, Sergio Agüero, may have cost less than half than Ronaldo did but the Portuguese cannot claim to have scored a goal which matches the importance of 'Kun's Premier League title-winner in stoppage time in the final game of the 2011/12 season.
Money may not buy happiness, but it has bought success for both clubs. Their early meeting in football's greatest club competition raises the stakes, with back-to-back Bundesliga champions Borussia Dortmund not only lurking in the group but earning the support of neutrals disheartened by Madrid and City's 'financial doping'. Dortmund's squad largely consists of homegrown players nurtured by their academy.
So ahead of the titanic clash in the Spanish capital tonight, here's a (rough estimate) of the two teams' Champions League squad cost...
REAL MADRID
Estimated cost of Champions League squad: £407.86m
Goalkeepers: £0
Defenders: £112.96m
Midfielders: £168.9m Mesut Özil cost a prudent £12.4m
Forwards: £126m
Record signing: Cristiano Ronaldo (£80m) MANCHESTER CITY
Total cost of Champions League squad: £341.7m
Goalkeepers: £4.5m
Defenders: £74.2m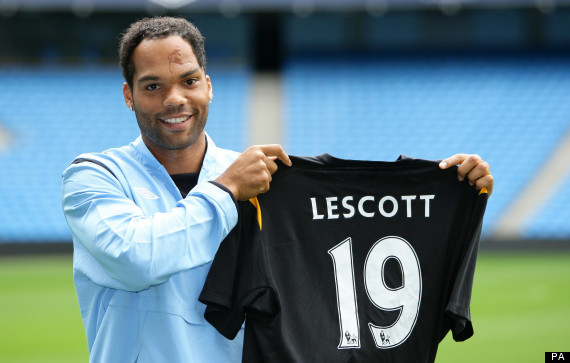 Joleon Lescott cost £22m from Everton
Midfielders: £140m
Forwards: £123m
Record signing: Sergio Agüero (£38m)