An Edinburgh woman killed by a suicide bomber in Afghanistan sent a poignant tweet on the day she returned to the country's capital, wondering what was in store for her on her arrival in the troubled country.
South African born Jeni Ayris, 46, died in the blast in Kabul on Tuesday when a female insurgent drove a car full of explosives into a minibus carrying mainly foreign workers.
Her friend, Kirsten Bennett, from the Isle of Mull, said Ms Ayris was expected to return to Edinburgh this weekend. Jeni Ayris, one of 12 killed in the suicide attack in Kabul
Ms Ayris was originally from Durban, but had lived in Tollcross, Edinburgh for 17 years and held dual British-south African nationality.
She ran an African cafe and deli, Ndebele, in the Scottish capital for 10 years, described on its website as "supplying South Africans and visitors a wealth of Southern African food and goodies…a place to chill and unwind to the sounds of African music." Jeni Ayris ran a South African cafe for many years in Edinburgh
Ms Ayris later became a customer relations manager for ACS/BalmOral, an aviation firm which organises private flights for charities and NGOs coming to Afghanistan.
Her last tweet, on returning to Afghanistan in early August, read:
A Facebook page has been set up to pay tribute to her, joined by more than 100 people.
Friend Michael Hodgson, 39, described Ms Ayris as "a warm, kind and generous person with an everyday objective of helping everyone she met.
"She had a positive boundless energy which rubbed off on everyone, making her loss all the more hurtful."
"Jeni was highly respected and valued in her job as a manager in the aviation sector where she was responsible for the safe air travel of NGO's throughout Afghanistan and her contribution was her practical way of helping Afghanistan move forward."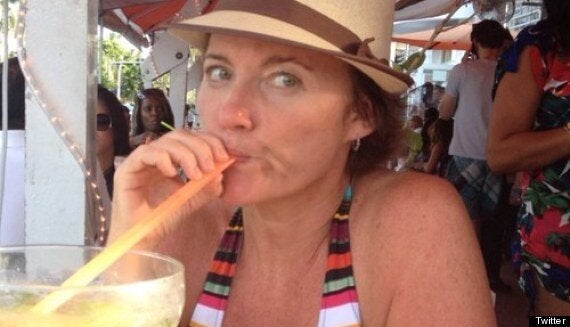 Tributes and pictures have been posted on a Facebook memorial page for Jeni Ayris
He said she had one sister, Pat, her only family.
Shonagh Stuart posted on the site: "When I was doing my Sculpture undegrad at Edinburgh College of Art, Ndebele was my second home, and I had the pleasure of meeting Jeni several times.
"I am devastated to hear of the passing of such a wonderful, progressive person who brought so much colour and joy - and biltong - to Tollcross."
Sam Heughan wrote: "What a waste, you're an amazing woman Jeni. Tenacious, energetic, positive and big hearted. Sorely missed. Taught me a lot."
ACS/BalmOral said in a statement: "ACS/BalmOral is deeply saddened by the loss of the lives of some of our staff in Kabul, Afghanistan due to a suicide bombing attack that occurred on 18 September.
"We are in the process of notifying the next of kin and our main focus now remains with the families of the innocent victims, who tragically lost their lives, our prayers and thoughts are with them, and all our staff remaining in Kabul." A suicide bomber rammed a car packed with explosives into a mini-bus carrying foreign aviation workers to the airport in the Afghan capital
The British Embassy in Kabul confirmed one of the dead was a dual South African/ British national.
A spokesman said: "Our deepest sympathies are with the families and friends of those all involved.
"Officials from the British Embassy in Kabul are liaising with the South Africans, the Afghan government and other partners and are providing consular assistance".
Witnesses said that a female suicide bomber detonated as a minibus full of foreigners in Kabul stopped to refuel on the major road leading to the airport, killing around 12 people
Afghan militant group Hezb-e-Islami, which claimed responsibility for the blast, said it was in response to the film 'Innocence of Muslims', which makes out the Prophet Muhammad to be a womaniser and a child molester.